Cornwall in 2022 – A Year in Review
December 15, 2022
Cornwall Ontario – 2022 was another strong year for Cornwall in terms of economic activity, according to a report prepared by Cornwall Economic Development.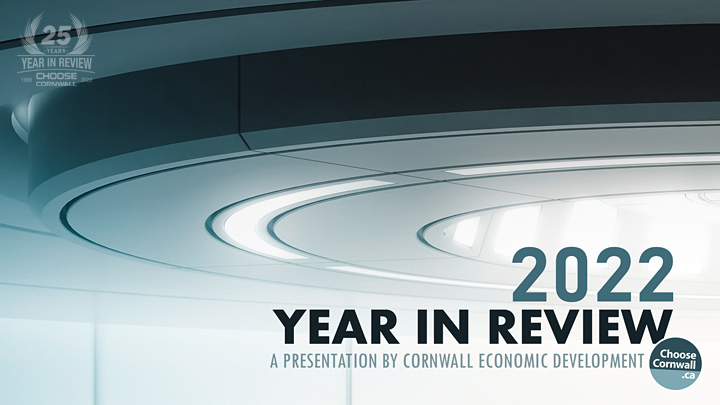 "We continue to see positive investment activity that is creating employment opportunities in a variety of sectors," said Bob Peters,  Manager of Cornwall Economic Development. "Existing companies are expanding and adding new technology, while at the same time we are welcoming new businesses to the city – both large and small."
The 2022 Year in Review report was delivered to an audience of 300 business and community leaders at Galaxy Cinemas. The report is the 25th time that Cornwall Economic Development has delivered an annual recap of business news. Information for the report is gathered from diverse sources including building permits, local media and submissions from local businesses and organizations.
The 2022 report recaps dozens of stories of investments and achievements by local companies and individuals. MP Eric Duncan, MPP Nolan Quinn and Mayor Justin Towndale also spoke at the event, which was once again sponsored by Team Cornwall.
"For twenty five years, we've been fortunate to be able to take a moment and reflect on the efforts of so many people, companies and organizations that make Cornwall such a great place to live, work and do business," says Mayor Justin Towndale. "We see even better things in our future, with new investments in affordable housing, industry, and tourism on the horizon. I invite you to take a look to see why there has never been a better time to invest in Cornwall."
2022 – Year in Review
Here are some of the highlights from Mr. Peters' presentation, which can be downloaded from the ChooseCornwall.ca website.
Commercial
The number of commercial businesses that opened or expanded operations in Cornwall this year is amongst the highest since the very first report was drafted. The city once again welcomed a number of new restaurants, retail cannabis stores and retailers. Of particular note is the number of entrepreneurs that are new to Cornwall and in many cases new to Canada. Many of these small businesses have been supported by organizations including the Cornwall Business Enterprise Centre, Cornwall Chamber of Commerce and ACCFutures.
Industrial
Several local manufacturers, food processors and logistics companies expanded operations in 2022. This includes the region's largest private sector employer, Walmart Canada, along with other major employers, including SigmaPoint, Leclerc, Olymel, Hood Packaging, and Laframboise Group. Of special note was the emergence of controlled-agriculture as a key economic sector, lead by Cultivatd, ZipGrow and Fieldless Farms.
Residential
Local developers continue to build new homes across the city in a number of subdivisions. Multi-unit residential projects are slated to deliver another 200 units, with more on the way. New long-term care facilities are nearing completion with another project currently in the design stages. Devcore continues to renovate hundreds of rental units, and with its recent acquisition of the DEV Centre, is planning on building a mix of high and low density units along the waterfront.
Institutional
St. Lawrence College launched new micro-credential programs, the Cornwall Community Hospital added a new acute stroke unit and the City of Cornwall invested in new roads, facilities and infrastructure projects. OPG continues to make significant investments at the Saunders Generating Station, the Seaway International Bridge completed a major renovation of the South Channel Bridge and Cornwall Electric is expanding its network.
More Info
The above is just a sampling of the dozens of stories referenced in the 2022 Year in Review report, which can be downloaded from the Resources section of this website.  In-depth coverage of many of the success stories are covered with articles in the News section of this website.
Jobs
Most major employers in the Cornwall region are currently recruiting, with an estimated 500+ jobs available in the region at any given time. You can view job postings online on the ChooseCornwall.ca Job Board.
YourTV Broadcast
The Year in Review presentation will be broadcast on YourTV Cornwall. The main air dates are as follows:
Tonight, December 15th at 8pm (Premiere)
Monday, December 19th at 8pm
Friday December 23rd at 8pm
Monday, December 26th at 8pm
Wednesday, December 28th at 8pm
Friday December 30th at 8pm
New Years Eve and New Years day at 8pm
The full schedule can be found at yourtv.tv/cornwall