Bicycle World opens new Ninth Street location
June 7, 2021
Cornwall Ontario – One of Cornwall's most popular bicycle shops has rolled into a new location in the centre of the city.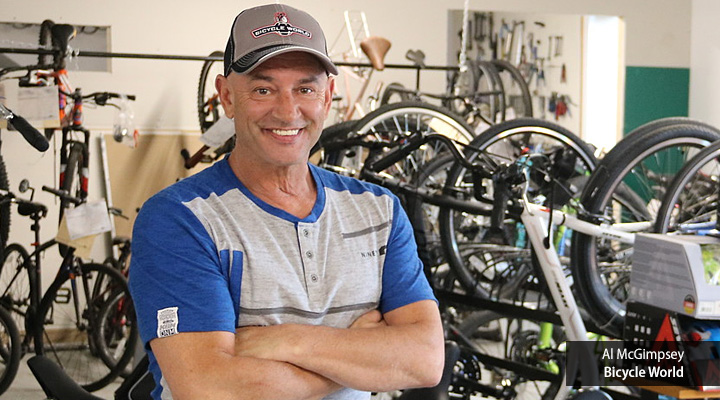 Bicycle World has opened the doors to its relocated shop at 24 Ninth Street East (the former Loonies and Balloonies), a 4,000 square-foot store with a showroom and bicycle service bay along with ample parking just steps from the door.
It's the third location for the business and a big leap forward from its humble beginnings over 35 years ago when owner Al McGimpsey launched Bicycle World out a Downtown tanning salon that he co-owned with a business partner.
"We had to walk through the tanning salon with bikes," he recalls with a laugh.
Mr. McGimpsey decided to go all in on the bike business and eventually opened a dedicated store further south on Pitt Street, building up a solid clientele out of the space for over 25 years.
The move represents the next chapter for the business, and it comes at an exciting time when interest in cycling has probably never been greater. The number of people cycling along Cornwall's Riverside Trail has skyrocketed during the pandemic and business has been brisk. As one small example, Mr. McGimpsey received a shipment of a dozen new bikes on a recent Friday. They were all gone by Saturday.
"People are stuck at home and figuring that they need to get out and get some exercise. Cycling is a great way to do that," Mr. McGimpsey said. "And there really is no better place to cycle than Cornwall. We have the best bike path. It's absolutely beautiful."
While demand has led to a shortage of bicycles, Mr. McGimpsey said the situation is slowly improving and they should be receiving more in the coming weeks. Bicycle World' service shop is also fully stocked and trained bike mechanics are ready to assist with bicycle repairs.
In addition to bicycles, Mr. McGimpsey plans to expand even further into winter sport opportunities with expanded sales and service of cross-country skis and snowshoes.
Bicycle World is open Monday to Friday from 10 am to 6 pm and Saturday from 10 am to 5 pm and can be reached at 613-932-2750.
Additional Information
Related Articles