Bonjour My Friend Tour Makes Stop in Cornwall
May 21, 2019
Cornwall Ontario – A cross-Canada tour celebrating the nation's two official languages rolled in to Cornwall today.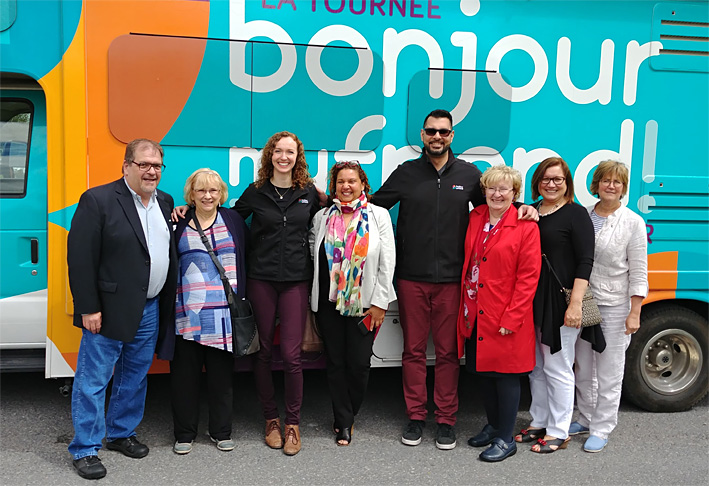 The colourful tournée bonjour my friend! tour bus arrived in the City as part of a 50-day national tour celebrating the 50th anniversary of the Official Languages Act. The tour kicked off on April 15th in Victoria, BC and will wrap up on June 21st in St. John's, Nfld.
Tour ambassadors Laura Lussier and Shaunpal Jandu visited two local secondary schools – La Citadelle and l'Héritage – to lead discussions with students and community members about linguistic duality and how it has helped to shape Canada and its people.
During the discussions, audience members were invited to share their own views on linguistic duality and what it means to Canadians. Tour officials also took photos and videos of participants to include in their coast-to-coast conversation.
Mayor Bernadette Clement was on hand to greet the delegation and provide them with welcome gifts from the City of Cornwall.
"We are very proud to have you here today," said Mayor Clement. "We are very proud of our community. We're a welcoming, diverse City that is proud of its bilingual roots."
It was a fitting stop on the tour given Cornwall's proud history as a bilingual community. The first important influx of francophones into Cornwall took place between 1870 and 1890, due to the opening of textile and paper mills, and the overall industrialization of the City, with the subsequent availability of employment opportunities.
Since then, the francophone community has contributed towards giving Cornwall its unique bilingual character.
"We're so pleased that La Tournée bonjour my friend! tour was able to stop in Cornwall. Laura and Shaunpal are two wonderful ambassadors of linguistic duality. Cornwall is a perfect example of an open minded, respectful community," said Dianne Poirier, President of l'Association canadienne-française de l'Ontario – Stormont, Dundas et Glengarry.
About the tournée bonjour my friend!
To celebrate the 50th anniversary of the Official Languages Act, Laura Lussier and Shaunpal Jandu are taking a road trip.
They're spending 50 days crossing the country and sharing their passion for linguistic duality, a fundamental principle that lies at the very core of our Canadian identity. Their adventure is filled with memorable encounters with Canadians from all walks of life.
For more information on the tournée bonjour my friend, please click on the following link: