Downtown Cornwall is Popping
December 13, 2019
Cornwall Ontario – The Happy Popcorn Co. has finally popped its way to Downtown Cornwall.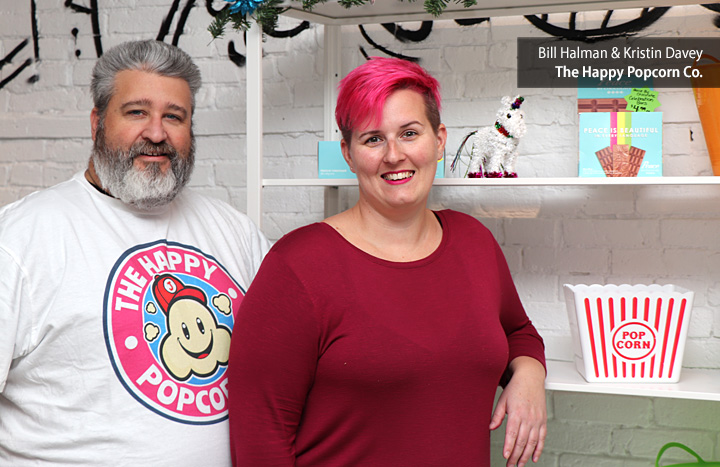 The gourmet popcorn store will open their doors at First and Pitt on Saturday, December 14. The opening will be the culmination of many months of planning and work for owners Kristin Davey and Bill Halman.
"We are very excited to bring Cornwall it's first ever shop devoted to popcorn," says Ms. Davey. "The response we've received from the very first time we suggested the concept has been out of this world. We look forward to helping our customers satisfy their cravings."
The Happy Popcorn Co. will offer gourmet popcorn that is popped onsite – available in a variety of flavours. Customers can also choose from a selection of artisan sodas, imported sweets, retro candy, slushies and more. The store will also carry the popular Peace by Chocolate line of chocolate bars.
"We want customers to "pop" in when they need a pick-me-up, and leave with a smile on their face and happiness in their hearts," explained Ms. Davey.
Yet for Ms. Davey and Mr. Halman, the store is so much more than popcorn. It's also about creating a place of inclusion for the community, and for creating future opportunities for young people, including their children Jack and Delilah.
"Jack is on the Autism spectrum, and as parents, we wanted to plan for his future," said Ms. Davey. "We are fortunate to be able to start this business, and we want to give others like Jack the same POP'ortunities! We also strongly believe in giving back to the community, and have various plans for fundraising programs and charity donations."
The couple moved to Cornwall from Alberta in 2011 and fell in love with everything about the community; the size, the location, and especially the people.
"We believe that supporting those who support us, in all aspects of our day to day, is not only the foundation for a happier life but good business sense. We're excited to launch our fundraising program once we've ironed out the details, and to begin our in-store "pop back" charity flavours. As much as this business is about providing for our own family, it's also about helping our community," explained Ms. Davey.
Happy Popcorn Co. is located at 5 First Street East in Downtown Cornwall and can be reached at 613-937-2677. The store will be open Tuesdays & Wednesday from 10 am to 5 pm, Thursday & Friday from 10 am to 6 pm and Saturdays from 10 am to 4 pm. You can reach them online at:
The Happy Popcorn Company is featured in Cornwall Economic Development's 2019 Year in Review report.