Cornwall's Economy Strong Across All Sectors
December 11, 2019
Cornwall Ontario – Cornwall's economy has turned in another strong performance in 2019, according to a report prepared by Cornwall Economic Development.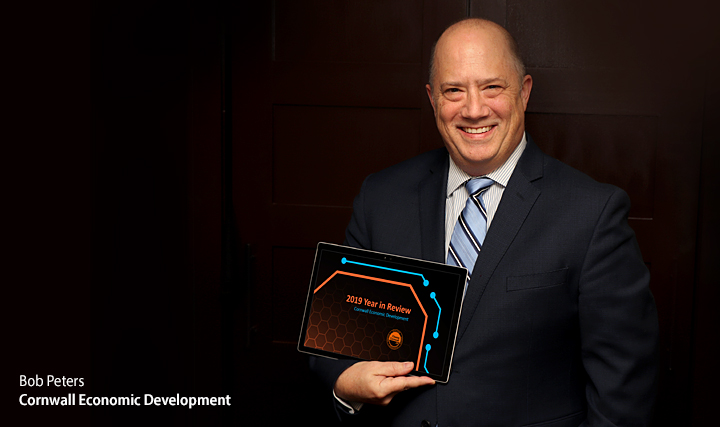 "Cornwall companies are once again leading the charge by expanding to new markets, investing in technology and growing their workforce," stated Bob Peters, Division Manager of Economic Development. "2019 was another consecutive year of growth, and one with positive development in every sector, fuelled by companies both large and small."
The Year in Review report was delivered to over 300 business and community leaders who gathered at Galaxy Cinemas to hear the good news. This is the 22nd year Cornwall Economic Development has delivered an annual recap of business news, with the first such report being prepared in 1998. Information for the report is gathered from such diverse sources as building permits, media and from submissions from local businesses.
The 2019 report recaps over 200 stories of investments and achievements by local companies and individuals. Click here to download the report.
"We gather each year to hear the news that we should have already known, and each year we are surprised with dozens of new stories,"  says Peter Gault, Chair of Team Cornwall, which hosted the meeting. "Mr. Peters and his team did a great job, as usual, putting the report together and bringing out all the great happenings in Cornwall over the year.  "
Mayor Bernadette Clement and MP Eric Duncan also spoke at the event.
"It's worth taking the time to reflect on our collective achievements and take stock of just how diverse and progressive our City really is," said Mayor Clement. "There's more work to be done but we are on the right path. Our future is extremely bright."
2019 – Year in Review
Here are some of the highlights from the Year in Review presentation, which can be downloaded from the ChooseCornwall.ca website, along with reports from previous years.
Building permit values are expected to reach upwards of $100 million by end of the year, making it one of the busiest development years on record.
Tourism
Cornwall's tourism sector saw strong activity this year with a variety of events, conferences and sporting tournaments pulling in visitors from near and far. A number of initiatives were supported with funding from the Tourism Development Fund.
Commercial
Dozens of commercial businesses opened or expanded operations in Cornwall this year, including – but not limited to – Cornwall Nissan, Uptown Kia, Medical Arts and Flowers Cornwall. These include expanded dining and shopping options along with a strong entrepreneurial push from companies supported by the Cornwall Business Enterprise Centre, Cornwall Innovation Centre and Community Futures Development Corporation. A number of properties in the Downtown were redeveloped with assistance from the Heart of the City Community Improvement Program.
Industrial
Several local manufacturers, food processors and logistics companies expanded in 2019 including Morbern, Olsonfab and Laminacorr. Notable employment growth was noted by Walmart Logistics, Olymel and SigmaPoint. Large capital projects were undertaken by Laframboise Group, Shoppers Drug Mart and Biscuits Leclerc.
Residential
A number of local developers were very busy this year, as new homes were built across the city in a number of subdivisions. These include Cartwave Realty, JF Markell, Menard Bros., Grant Marion, CH Clement and Falcon Homes. Work has begun on the long-awaited Bell Tower at the Historic Cotton Mill District. A three-storey addition to the Riverdale Terrace retirement residence is almost complete.
Institutional
Enrollment is up at St. Lawrence College, and the Cornwall Community Hospital welcomed new doctors. Major capital works were undertaken at the RH Saunders Generating Station. The City of Cornwall invested $30 million in municipal infrastructure in 2019.
The above is just a sampling of the dozens of stories referenced in the Year in Review report, which can be downloaded in the Resources section of this website. Over 150 success stories are also detailed in the News section.
YourTV Broadcast
The Year in Review presentation will be broadcast on YourTV Cornwall on Thursday Dec 12th at 8:00 p.m.
Categorised in: Arts and Entertainment, Business, Community, Environment, General, News, Sports