Essential Kitchen Opens Downtown Cooking Studio and Wine Bar
July 12, 2022
Cornwall Ontario – Foodies and chefs alike will delight in the opening of Essential Kitchen, a wine bar and cooking studio that will feature hands-on classes, demonstrations, tastings and events.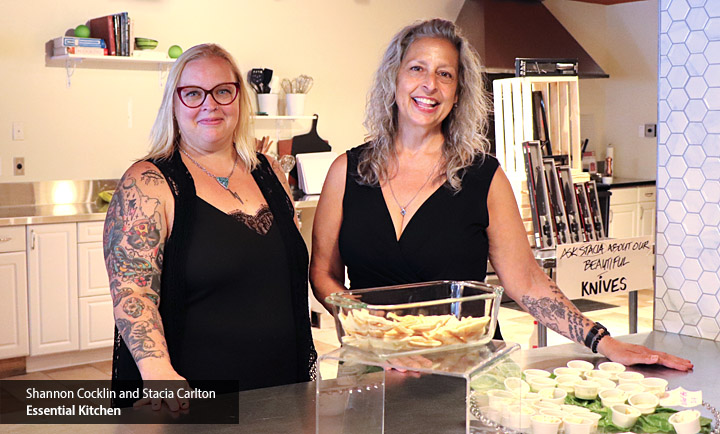 Visitors can expect everything from learning the "essentials" of cooking to talks and tastings given by local creators in their area of expertise as well as an event space for smaller gatherings and groups. The business also features a carefully curated selection of housewares, organic produce and breads from local growers as well as some housemade foods from the team at EK.
The business is the longtime dream of Stacia Carlton, who returns to her hometown after many years in the retail sector.
"The idea for Essential Kitchen was borne from a lifetime in kitchens, both personal and professional," says Ms. Carlton. "My passion was ignited by my grandmother, boosted by my mother and then fuelled by my friends and family over the years. Essential Kitchen Cooking Studio is the culmination of my love of all things culinary – and I am very excited to share this with Cornwall."
The concept for Essential Kitchen is something that hasn't been done in the area previously. Ms. Carlton is looking create a culinary hub for like-minded enthusiasts throughout the region, as well as to entice visitors from afar to enjoy all the area has to offer.
"It is always exciting to welcome a new business to our community, especially one with such a unique offering like Essential Kitchen,' says Gina Scandrett, President of the Cornwall and Area Chamber of Commerce. "Essential Kitchen is sure to become a destination experience that will continue to build on the incredible developments already happening in downtown Cornwall. Congratulations to Stacia and her team on their opening."
Essential Kitchen opened its doors on Saturday after extensive renovations to its downtown building. From specialty food items, cooking classes, and high end kitchen equipment, there is something on offer for everyone.
"The level of enthusiasm I've received during the planning process as well as the opening day has been truly overwhelming!" says Ms. Carlton. "The goal is to create the complete culinary experience with a focus on local products and artisans."
Essential Kitchen is located at 109 Pitt Street and is open each day (except Wednesdays) from 11am to 5pm. You can learn more about the upcoming schedule of classes and events online:
Categorised in: Arts and Entertainment, Business, Community, General, News