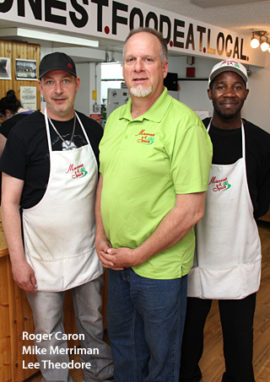 Marrow and Spice is a Popular Choice for Food Lovers
May 13, 2016
Cornwall Ontario – Mike Merriam knows food. He has been selling products from his Roadapple Ranch at local summer farm markets for years, and he quickly came to the realization that there had to be a better way to place farm-fresh food in the hands of a hungry urban population.
"We wanted to introduce city folk to their local food producers in a way that was convenient for them," says Mr. Merriam. "We also wanted to give people an option for healthier, more interesting food to take home on days when they did not have time to cook."
The result was Marrow and Spice, an innovative store that is a cross between a permanent farm market and a retail grocer featuring products sourced with a 100 km radius to Cornwall. The store is bright and clean, and large block letters with the slogan "Honest. Food. Eat. Local." greet customers as they enter.
He and his partner Kimberley Woolley opened the doors to Marrow and Spice in February of this year.  The response so far has been fantastic.
"It can be challenging to change the public's mindset, but a big reason we are here is because the people of Cornwall wanted this store," says Mr. Merriam. "We had a gluten-free event on Saturday a couple of weeks ago, and we met more people excited about the store than ever previously. We broke all of our sales records."
Marrow and Spice offers local food products such as drug and hormone-free Beef, Pork and Chicken as well as local fresh produce. They also stock items such as Honey, Maple Syrup and Gluten-Free Mixes for baking and cooking. Most of the products are sourced locally, including:
Roadapple Ranch Honey (Finch)
McCaig Honey (Dalkeith)
Biemond Grass-fed Yogurt (Iroquois)
Zengarry Artisan Cashew Cheese (Alexandria)
Against the Grain (Mountain)
Gordz Hot Sauce (Dalkeith)
Crave Tea (Cornwall)
Fairy Sweet Chocolate (Cornwall)
In addition to food products, customers can also purchase pre-cooked home meals such as Caribbean Jerk Chicken and Barbecued Meats.  The food is so popular, Mr. Merriam decided to open a take-out hot lunch counter serving Caribbean specialties, vegetarian soups and hand-crafted sandwiches and salads. Lunch items are listed on their Facebook page each morning.
"Our focus is to help promote local food producers and processors, and while our efforts help people experience traditional healthy foods (marrow), we love to encourage our customers to learn more about varied flavours (spice)!"
The offerings of Marrow and Spice have been so popular, Mr. Merriam is already looking for a new location with a larger kitchen, or may even consider opening a second location.
"We have been selling out of food most days due to Chef Roger's expert work, and our production is limited due to our kitchen space," he says. "We would like to greatly increase our capacity to provide nutritious take-home dinners for people that find themselves too rushed at the end of the day to cook."
As he plans for expansion, Mr. Merriam prefers to take the long view.
"My philosophy is to have a good product, fill an empty niche, and never stop improving," he says. "Getting people to fall in love with locally sourced beautiful food is a long term endeavour."
Marrow and Spice is located at Unit 40, 812 Pitt Street. The store is open Monday to Friday 11 until 7 and Saturday 10 until 6.
You can find Marrow and Spice online:
Categorised in: Business