Butcher Shop Opens in the Cornwall Square
November 21, 2023
Cornwall Ontario – Chef Luc McCabe will be showcasing an exceptional selection of quality cuts from around the world at the Upper Vault, the latest addition to the Cornwall Square Food Hall.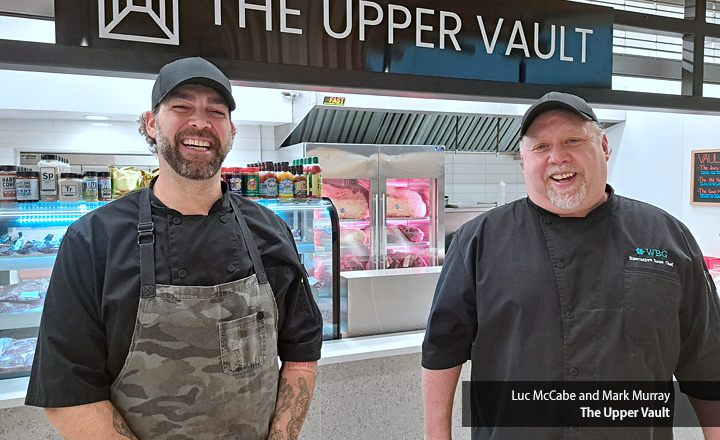 "We've had many people clamoring for a butcher shop that carries hand-cut meats and heritage breeds from around the world," said Ian Bentley, Director of Hospitality for the Weaving Baskets Group, owners of the mall. "We're aiming for The Upper Vault to become top-of-mind for those quality protein connoisseurs."
The Upper Vault will also offer a limited selection of gourmet sandwiches as well as pantry staples including spices in addition to the meat counter. Cornwall foodies will now have an outlet where they can find cuts like bavette, skirt steak, picanha, tri-tip, short ribs, tomahawk steaks and so much more. Because a butcher shop is only as good as the producers who supply it, Chef McCabe has sourced The Upper Vault's stock from the finest purveyors.
"You can expect to see Iberico pork from Spain, Wagyu beef from Japan, lamb from New Zealand, and so on," Chef McCabe explains. "We'll butcher the best cuts on site and also offer room in our dry aging cabinet for those looking to level up their meats."
The Upper Vault will act as a small satellite outlet for the Butcher's Vault and Fromagerie, another notable WBG project that is expected to open in 2024. Located on the lower level of the Square, the Butcher's Vault and Fromagerie will feature an expanded lineup, butchery service, as well as a lounge space for patrons.
The opening of The Upper Vault is yet another one of WBG's continued investment in the community.
The Upper Vault is located in the Food Hall on the second floor of Cornwall Square (1 Water Street East).  It will be open Monday to Saturday from 11:30am to 5:30 pm. Follow The Butcher's Vault on Instagram and Facebook.
About the Cornwall Square
Cornwall Square is the region's largest indoor shopping centre featuring dozens of national-name retailers and restaurants. Located in in Downtown Cornwall, the mall is open Monday to Friday 9:30am to 7pm, Saturday 9:30am to 5:30pm and Sunday 11am to 5pm.
About Weaving Baskets Group
Weaving Baskets Group is a Cornwall-based company specializing in real estate redevelopment, property management, and real estate and financial services. The growing company owns more than 25 local properties including the flagship Cornwall Square, Seaway Shopping Centre, and Cameron's Point Campground.
Related Articles