Cornwall Square Adds Seasonal Retailers
November 16, 2023
Cornwall Ontario – It's beginning to look a lot like Christmas at Cornwall Square.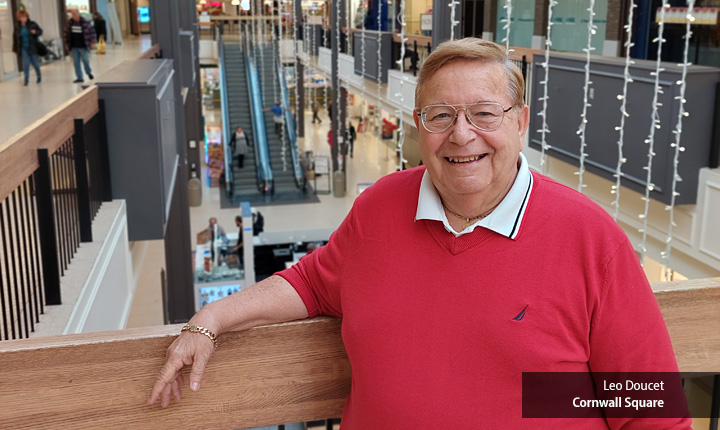 The lights have been hung, Santa's big chair has been installed and new seasonal retailers have opened their doors to provide some added holiday excitement at Cornwall's downtown shopping centre.
"It's an exciting time at the Square and there are plenty of places to shop and things to see and do," said Cornwall Square Property Manager Leo Doucet.
Shoppers can take advantage of several new seasonal stores, including the popular Floral Expressions Christmas Store which is fully stocked with beautiful Christmas decorations and home décor items for those in search of some holiday cheer. The shop is on the second floor, and just a couple doors down, visitors will find the Calendar Club which is now up and running for the season as well. Meanwhile, Hickory Farms has a full store set up on the main floor of the mall next to Laura Secord.
Also returning this holiday season is The Square Marketplace. Located on the lower level next to Cleo, the Marketplace will feature artisans and makers selling a variety of products every Friday to Sunday until Christmas. The Marketplace kicks off on Friday, November 24th.
On the other side of the first floor, in the former Children's Place location, a new reduced-price produce outlet called Arks Harvest is set to open this Saturday and will run on Saturdays to start out. Shoppers will also see boat displays from Suntan RV & Marine as well as an independent vendor selling unique South American apparel on the first level concourse.
And let's not forget about Santa. Jolly St. Nick arrives at Cornwall Square on Sunday at 11:30 am and he will be on hand for photos throughout the holiday season.
The seasonal activity is sure to create some extra buzz at the mall – and even more reasons to pay a visit.
"That's what we're all about," says Mr. Doucet. "We want to make this place a hub of activity not just for our retailers but for the entire community."
In that vein, the mall is currently hosting the Focus Art Association's annual Fall Juried Art Exhibition. Located in the former EB Games space on the second floor, the exhibit features a total of 108 pieces by 44 different artists representing a wide range of styles and mediums. The show runs on select dates over the next two weeks .
Visitors will also want to set aside some time to dine in the recently-renovated Food Hall on the second level. The fresh look and feel and the arrival of some new eateries has generated plenty of positive feedback. The Square has also recently welcomed Different Abilities, a unique store supporting young adults with disabilities.
"It's night and day. We've increased the number of restaurants and we've seen the traffic increase," adds Mr. Doucet.
Extended Hours
Starting December 11th, Doucet said the Cornwall Square will extend its hours to 9:30 am to 9 pm during the week and 9:30 am to 6 pm on Saturdays and 11 am to 5 pm on Sundays, right up until Christmas Eve.
Additional Info
For additional information on the Cornwall Square, visit: