Different Abilities Opens Storefront in Cornwall Square
October 31, 2023
Cornwall Ontario – A local organization is taking its mission to support young adults with disabilities to a new level with the opening of a unique workshop and storefront in the Cornwall Square.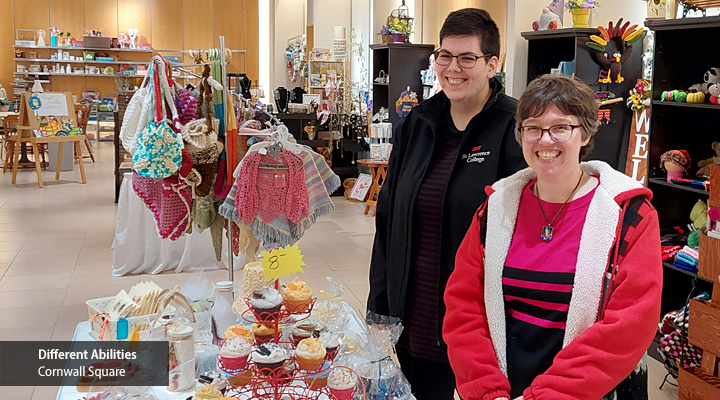 Different Abilities has established a new space in the mall which serves as a hub for creation and commerce for the young adults who take advantage of their services. Located on the main floor of the shopping centre, the space contains an arts workshop where clients can work on their skills and meet new people while the front portion features a variety of items for sale – including those made by the clients, with all proceeds going to support the organization.
Different Abilities was formed in 2016 by Helen Horvath who, based on her own experience with her daughter, wanted to create a space of opportunity for young adults with disabilities. The organization was located in the former Care Centre before moving to the Cornwall Square, and the response to the new location has been quite positive.
"The whole purpose is to create an outlet for people with special needs," says Ms. Horvath. "The community has been great so far."
At present, Ms. Horvath said the organization has 12 clients who create jewelry, arts, crafts and other handmade goods, some of which are for sale on the store shelves. The clients also assist in operating the store and serving customers.
"Just the exposure (of being in the shopping centre) will help a great deal," she added.
Ms. Horvath said the organization is completely dependent on volunteers. Residents who wish to help out can do so by donating arts and craft supplies – or their time.
The Different Abilities store is currently open Tuesday to Saturday from 11 am to 4 pm and everyone is welcome to visit and browse the selection of items for sale.
Additional Info
For additional information on Different Abilities, check out their Facebook page:
Categorised in: Arts and Entertainment, Business, Community, General, News