Fall Juried Art Exhibition returns to Cornwall Square
November 16, 2023
Cornwall Ontario – The Focus Art Association's annual Fall Juried Art Exhibition is back at Cornwall Square.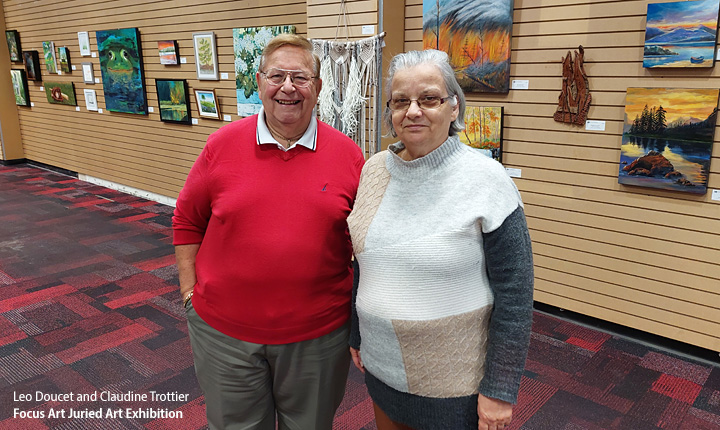 Located in a second floor storefront in the Cornwall Square, this year's exhibit features a total of 108 pieces by 44 different artists representing a wide range of styles and mediums.
"It's more than we usually have and we are quite excited about that," said Focus Art President Claudine Trottier. "We have some brand new artists that have never shown with us before with a number of different styles."
Ms. Trottier said visitors can expect to see works ranging from oil and acrylic to mixed media, photography, batik, macrame, sculpture and more. Visitors are encouraged to take a ballot and vote for their favourite piece to help decide the People's Choice winner.
The annual show is made possible thanks to a strong relationship with the Cornwall Square.
"We're pleased to work with Focus Art on this annual show," said Leo Doucet, Property Manager at Cornwall Square. "There's some great synergy between the mall and community events such as this and it's a great time of year to do this."
In addition to the Cornwall Square, Your Arts Council, Cline House Gallery and RBC Wealth Management also assist with supporting the exhibit.
"We're fortunate to have some great community partners that assist us in bringing this event to life," Ms. Trottier added.
Show Times
The Fall Juried Art Exhibition will be open on the following dates and times:
Thursday, November 16 & 23 – 10 am to 6 pm
Friday, November 17 & 24 – 10 am to 6 pm
Saturday, November 18 & 25 – 9:30 am to 5:30 pm
Sunday, November 19 & 26 – 11 am to 3 pm
Additional Info
For additional information on the Fall Juried Art Exhibition, make sure to check out the Focus Art Facebook page.
Categorised in: Arts and Entertainment, Business, Community, General, News