CAPE Celebrates 5th Anniversary on April 27-28
April 15, 2019
Cornwall Ontario – You can't keep a good super hero down – or for that matter, a show that celebrates pop culture.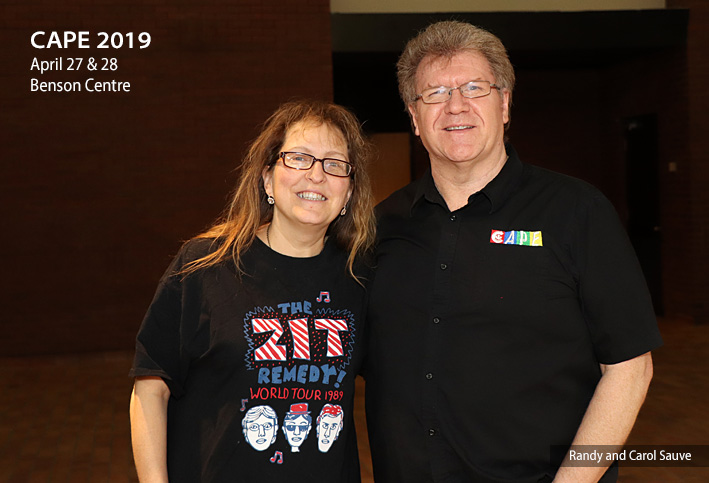 CAPE is back April 27 and 28, once again promising a fun-filled two-day event that celebrates the ever-popular entertainment genre of super hero story-telling.  Attendees get to meet special guests, browse vendors selling collectibles, and interact with other fans – many of which will be in full costume.
"Interest in CAPE seems to grow each year, and we are very proud to celebrate our 5th anniversary," says co-organizer Randy Sauve. "So many more people have embraced the genre, thanks to blockbuster films such as Shazam!, Captain Marvel and of course the Avengers. Science fiction is also making a comeback with reboots of the Star Trek and Star Wars franchises."
Although there is no dress code, many fans take the opportunity to dress up for the event, which adds to the overall experience.
"Some of best interactions are from fan to fan, and each year the costumes just seem to get better and better," notes Carol Sauve, co-organizer. "We encourage people to take full advantage of the weekend and embrace their inner super hero."
Special guests this year include the following:
Lew Temple (The Walking Dead)
Scout Taylor-Compton (Halloween)
Pat Mastroianni (Degrassi Junior High)
Stacie Mistysyn (Degrassi Junior High)
Stefan Brogren (Degrassi: Next Class)
J. Torres (Writer – Teen Titans Go)
Jack Briglio (Writer – True Patriot)
Also at CAPE will be professional cosplayers The Estrada Sisters, Ottawa Knights, Dr. Who Society and Ottawa Tardis and  local cosplay family AERO Cosplay.
Show Times
Saturday April 27 – 10:00 am to 6:00 pm
Sunday April 28 – 10:00 am to 5:00 pm
Ticket Info
Weekend Admission – Includes both Saturday and Sunday – $30 ($35 at the door)
Saturday ONLY – $18 ($20 at the door)
Sunday ONLY – $12 ($15 at the door)
Child Admission – FREE for children 12 & under (no ticket required)
Tickets are available at FANTASY REALM located at 227 Pitt Street in Downtown Cornwall, or online at www.cornwallpopevent.com. Tickets will also be available at the Benson Centre on the day of the event.
About CAPE
CAPE stands for Cornwall and Area Pop Event, and is modeled after the popular comic-con events held around the world. The first CAPE was held in 2015 and is organized by Randy and Carol Sauve, two well known business people in Cornwall. CAPE 2015 was held as a  one-day show and attracted 3500+ people.  CAPE 2016 grew to a two-day  show and attendance reached 5800+.  CAPE 2017 featured total attendance of 5,200 and the 2018 edition of CAPE peaked at its highest attendance of more than 6000 people!  The show will continue as a two-day weekend show (Sat/Sun) every year moving forward.
You can learn more online:
Categorised in: Arts and Entertainment, Business, Community, General, News