Chef McCabe to Add Canadian Flavour to International Culinary Event
May 29, 2019
Cornwall Ontario  – Chef Luc McCabe will be representing Cornwall – and Canada – at one-of-a-kind culinary event this summer.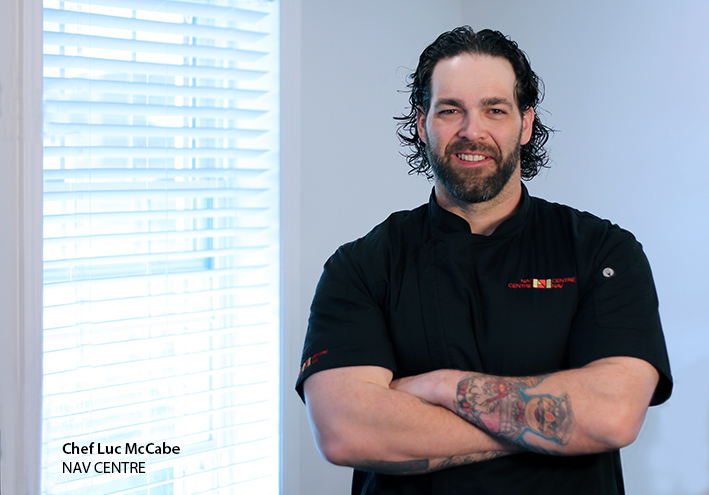 Around the World in 10,000 Bites is billed as a gastronomic experience of a lifetime. Chefs from around the world will put together a 101-course meal in Houston in August.
"I am looking forward to bringing a little bit of Canadian flavour to the event," says Chef McCabe, Executive Chef at the NAV CENTRE in Cornwall. "It will be a challenge to serve so many different courses in a non-restaurant environment, but with an all-star line-up of chefs I am sure it will be an amazing experience."
The venue for this event is the renowned Houston Museum of Natural Science, where one hundred guests will sit down to dine amongst the dinosaurs in the paleontology wing of the museum.
Around the World in 10,000 Bites is the brainchild of Chef David Skinner, owner and chef the Eculent restaurant just outside of Houston, Texas. After realizing that many people did not have a good appreciation for different cuisines, he seized the opportunity to create something that was both gastronomically unique and educational. A test dinner at the World Food Championship in 2016 proved the concept was viable and plans were put in place for Around the World in 10,000 Bites.
"My hope is that guests emerge from this journey with a much richer understanding of different cultures and cuisines and a greater appreciation for what makes us all unique and wonderful," said Chef Skinner. "The calibre of chefs, venue, and limited number of guests make this the most exclusive and sought-after event of the year, possibly even the decade."
Chef McCabe has been making international connections of late, working alongside Phoenix chef David Duarte, who is one of the organizers of Around the World in 10,000 Bites.
"We welcome guests from around the world at the NAV CENTRE," says Chef McCabe. "This event will create invaluable connections that could very well result in more unique culinary events in Cornwall."
Chef McCabe has been the Executive Chef at the NAV CENTRE since 2012.  You can follow his culinary exploits on Instagram
Proceeds for Around the World in 10,000 Bites will go toward breast cancer research and to the James Beard Foundation. Each guest will be presented with a limited-edition photo book commemorating the event with photos, recipes, and descriptions of all the dishes of the event. The event will also be captured on film and edited into a documentary for future international broadcast. More info can be found online:
About NAV CENTRE
The NAV CENTRE is a training and conference venue owned and operated by NAV CANADA. It offers access to 535 guest rooms, 70 state-of-the-art classrooms and meeting rooms, as well as an auditorium. Other amenities include a gymnasium and fitness facilities as well as multiple dining options. The NAV Centre is also an accredited member of the International Association of Conference Centres (IACC), provided for adhering to globally-recognized standards in hospitality service.
Categorised in: Arts and Entertainment, Business, General, News