Cirque du Soleil to Premiere New Show in Cornwall
May 23, 2019
Cornwall Ontario – For the very first time ever, the world-famous Cirque du Soleil will be performing in Cornwall Ontario.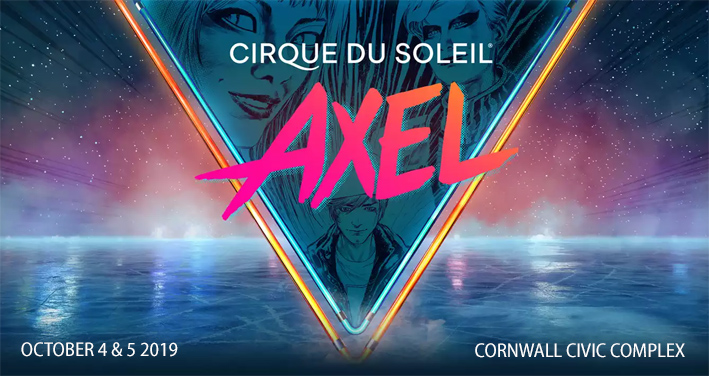 Tickets are now on sale for Cirque du Soleil AXEL, a unique experience that will showcase world-class acrobatic skating performances set in fantastical universes combining full-spectrum visual effects and awesome live music that seamlessly integrates popular songs with new original scores.
"The success of our first creation on ice has reinforced our ambition to further explore the extensive creative possibilities of a frozen playground," says Daniel Fortin, Vice President Creation. "With Cirque du Soleil AXEL, we will offer a truly electrifying experience to all audiences, pushing the boundaries of creativity with the unique approach that has forged the reputation of Cirque du Soleil."
The show tells the story of Axel, a young man whose passion for live music and graphic arts come to life in an exhilarating adventure that reminds us all that our dreams are within reach. Discover this young artist as he falls for the fascinating Lei in a high-speed chase for love and self-realization.
Created to tour in arenas around the world, Cirque du Soleil AXEL will hit the ice for the first time at the Civic Complex on October 4 and 5 2019, before taking the road to stop in several cities in the United States. This new on-ice experience will be presented in Quebec City and Montreal later this year.
"We are very excited to welcome this wonderful group of world-class entertainers," says Janice Robinson, Facilities Rental Coordinator with the City of Cornwall. "The Civic Complex is a wonderful venue for this type of event, and every seat will offer a great viewing experience."
Show Schedule – Cornwall Civic Complex
There will be two opportunities to see the world premiere of AXEL in Cornwall:
Friday,        October 4th, 2019 at 7:30 pm
Saturday,   October 5th, 2019 at 3:30 pm
Ticket Information
Cirque Club members can purchase tickets via an exclusive online pre-sale at cirquedusoleil.com/axel.  Public tickets will be available starting May 31st, 2019 at cirquedusoleil.com/AXEL.
Cirque du Soleil AXEL is the 48th original production of Cirque du Soleil, part of Cirque du Soleil Entertainment Group, and its second on-ice experience.
About Cirque du Soleil Entertainment Group
Cirque du Soleil Entertainment Group is a world leader in live entertainment. On top of producing world-renowned circus arts shows, the Canadian organization brings its creative approach to a large variety of entertainment forms such as multimedia productions, immersive experiences, theme parks and special events. It currently has 4,500 employees from nearly 70 countries. Going beyond its various creations, Cirque du Soleil Entertainment Group aims to make a positive impact on people, communities and the planet with its most important tools: creativity and art.
About the Cornwall Civic Complex
Situated in scenic Lamoureux Park on the banks of the St. Lawrence River, the Cornwall Civic Complex is a highly versatile and modern facility.  The heart of the Civic Complex is the Ed Lumley Arena, a modern ice rink that boasts seating for up to 5,800 people for concerts and special events.
The Civic Complex has hosted a number of concerts, conferences and sporting events in recent years and will be home to the Ontario Curling Championships in 2020.
For more information, please visit www.Cornwall.ca.
Categorised in: Arts and Entertainment, Business, General, News