City of Cornwall Launches New Improved Website
November 14, 2018
Cornwall Ontario – One of Canada's longest running websites has a brand new look.
The City of Cornwall has re-launched its website at www.Cornwall.ca and site visitors can now access information on key topics via a fully accessible, mobile-friendly, bilingual platform.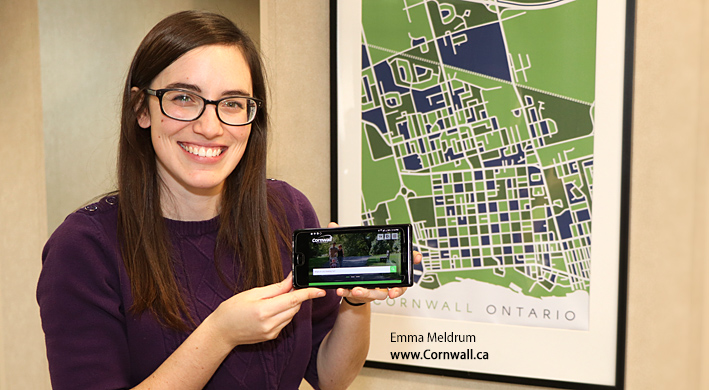 "The new and improved cornwall.ca will make it easier than ever to find relevant information about City programs, services and events," said Emma Meldrum, Public Information Coordinator. "The City's website is a living document. It will continue to evolve and change based on residents' needs."
The website contains hundreds of pages of documents, arranged in a easy to use menu system augmented by a fast and accurate search tool. Users are encouraged to discover the following new features:
Talk to Us: Current public engagement opportunities are listed in one place, where residents can read about and participate in public consultations.
Recycle Coach: Sorting waste is simpler than ever with this search tool that tells residents local information about what goes where.
Searchable by-laws: The City of Cornwall's by-laws are more accessible thanks to a searchable database.
Community Calendar: Organizations and individuals can now submit events to a community calendar.
How Do I: This menu offers answers to the most frequently asked questions – from applying for a job with the City to registering for recreation programs.
The re-designed website features new menus that focus on the user: Live Here, Play Here, Do Business, City Hall, Visit and How Do I?
The website is the product of a multi-year effort involving every City department and dozens of staff as content was reviewed and revised.  This effort will continue as staff strive to keep cornwall.ca updated and relevant.
Contest
Residents are encouraged to click through and orient themselves to the new website. For a limited time, site visitors will have a chance to win bus passes, swim passes, skate passes, a composter and Choose Cornwall merchandise. Residents need only fill out an online form to enter.
Orientation Sessions
Residents can learn more about how to navigate the improved cornwall.ca at the Cornwall Public Library, where website demonstrations will take place on Thursday, November 29 at 10 a.m., 3 p.m. and 6:30 p.m. Email emma.meldrum@cornwall.ca to register.
Cornwall.ca is one of many ways the City communicates with residents, visitors and business owners. Additional websites that target unique users include ChooseCornwall.ca, CornwallTourism.com, BusinessEnterpriseCentre.ca and ImmigrationCornwall.com.
The City will continue to use the Pingstreet app and social media platforms to share news and updates.
Background
The City of Cornwall was one of the first municipalities in Canada to develop a website. Launched in 1996, the 16-page bilingual site was primarily focused on economic development. It was an evolution of information previously available on the National Capital FreeNet.
The website, authored by Bob Peters, was groundbreaking and would be used as a template by other municipalities – including the City of Ottawa – as they rushed to take advantage of this new medium.
The site proved to be popular and by October of that year it had been visited 12,000 times. It sparked the development of new websites for local companies and organizations such as the Cornwall Chamber of Commerce and Team Cornwall, helping make Cornwall one of the most connected communities on the web.
The site also offered City staff access to detailed statistics on web site activity via expertise provided by Cornwall software company Busitech. This pioneering approach to using metrics has helped guide the evolution of the content over the years.
The site has undergone a number of different iterations since 1999, expanding in scope to include by-laws, webcasts of Council meetings and interactive maps. In 2007, the address of the website was shortened from city.cornwall.on.ca to www.cornwall.ca.
The latest web redevelopment project began in March 2017 and involved 40 city staff who made significant updates to their divisions' web pages. Approximately 25 staff were trained to enhance their website editing skills.
The current website is visited by about 12,000 users per month. The most popular pages offer information about careers, the Aquatic Centre schedule, Cornwall Transit routes and City Council profiles.
The website is supported by social media efforts
More Information
The City of Cornwall's communication efforts can be accessed via the following links:
Categorised in: Arts and Entertainment, Business, Community, Environment, General, News, Sports