Classiqu'Arts brings unique concerts to historic venues
August 12, 2019
Cornwall Ontario  – Classical music, opera and the visual arts will be in the spotlight this weekend with a series of concerts in two historic venues – Nativity Co-Cathedral and St. Raphael's Ruins.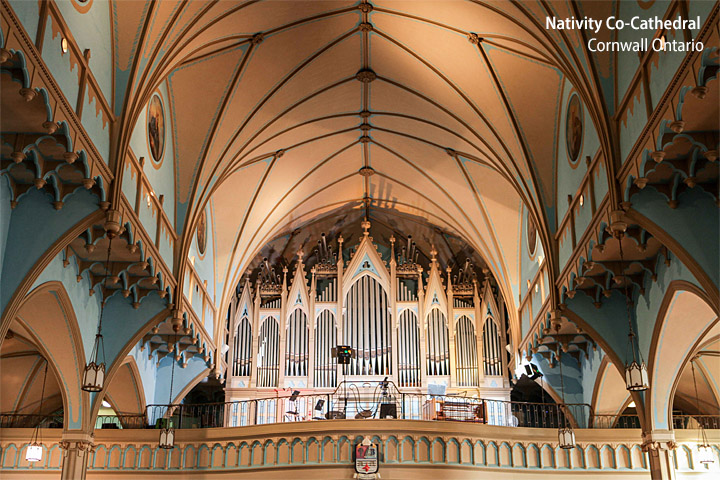 Classiqu'Arts returns for its third season with a two-day concert series featuring a rich and diverse lineup of world-class performers in one-of-a-kind venues.
"We've been seeing a blur in the borderlines of music," said Classiqu'Arts Co-Founder and vocalist performer Danielle Vaillancourt. "So our theme this year is Without Borders."
First up is the Without Borders concert on Saturday, August 17th in the beautiful Nativity Co-Cathedral on Montreal Road.
One of Cornwall's oldest and most beautiful landmarks, Nativity will play host to the world-music group KLEZTORY as well as unique and delicate performances by Aboriginal composer and performer Barbara Croall, both accompanied by the Classiqu'Arts String Orchestra. Cymbalist Alexandru Sura and his quartet will render rousing performances during a one hour pre-concert.
For music fans, it will be a chance to explore the cross-cultural influences that have pervaded classical music from Vivaldi's Four Seasons to Andrew Lloyd Webber's Phantom of the Opera.
The pre-concert is from 6:30 pm to 7:30 pm followed by the main concert at 8 pm.
The concert series will continue with Summer Meditations on Sunday, August 18th at St. Raphael's Ruins.
Aboriginal composer and performer Barbara Croall will perform along with many other many world-class performers. You can expect to hear Vivaldi, Lakmé, Brahms, Hungarian & Slavonic Dances, Game of Thrones and much more.
The concert begins at 2 pm and there is no reserved seating (bring your own chair). In the case of rain, the concert will be moved to Nativity.
Ticket information
Tickets for the concerts range from $15 to $50 and they can be purchased in advance online.
About Classiqu'Arts
Now in its third season, Classiqu'Arts serves to stimulate conversation towards the arts and instill within the community a new sense of pride for the hometown artists originating from SDG and eastern Ontario. In the summer, Classiqu'Arts organizes a series of summer concerts to showcase this talent and raise the profile of the local arts community. In order to reflect the artistic grandeur of these events, they are presented at the divine historic St. Raphael's Ruins located in Glengarry County and at the Nativity Co-Cathedral in Cornwall. These architecturally captivating sites evoke the history of the church while stimulating audiences with stunning performances.
For more information on Classiqu'Arts, please click here.
Categorised in: Arts and Entertainment, Business, Community, General, News