Cornwall Comedy Festival Returns October 15
October 6, 2022
Cornwall Ontario – There will be plenty of big names – and big laughs – in store when the Cornwall Comedy Festival returns on October 15.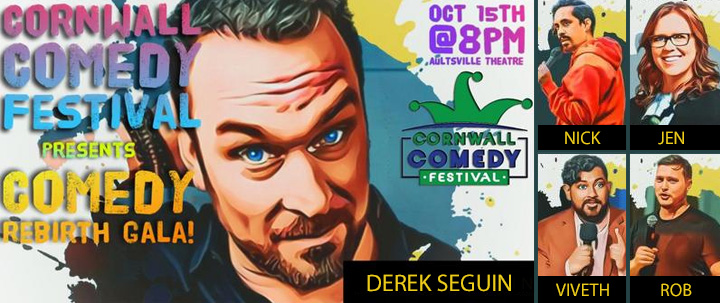 "The last couple of years has been nothing to laugh at," said festival organizer Shawn Fowler. "We're looking to change all of that with one exceptional night of comedy. We've assembled an awesome lineup who – for one night at least – will help you re-centre your funny bone."
The Cornwall Comedy Festival/Comedy Rebirth Gala will feature headliner Derek Seguin. Undeniably one of Canada's hottest comedians, Derek Seguin has been touring clubs and theatres across North America for the past few years and his debut concert album "Newfie Octopus" is a bestseller. Whether he's ragging on politics or describing life with his children, his undeniable charm makes him one of Canada's most "in demand" comedians.
Joining Derek Seguin on stage at Aultsville Theatre are some of the hottest names in comedy, including:
Nick Reynoldson
Jen Grant
Viveth K
Rob Bebenek
The festival takes place Saturday October 15 at Aultsville Theatre.
"Come and celebrate the return of great Canadian stand up comedy to Cornwall," adds Mr. Fowler.
Get Your Tickets
Tickets can be purchased in person at the Cornwall Civic Complex Box Office or by phone (613 938 9400) Monday – Friday. You can also purchase tickets online by visiting:
About the Cornwall Comedy Festival
The Cornwall Comedy Festival has been providing Cornwall and area with premier comedic experiences since 2014. The Festival, partners with community minded businesses to help financially support local not-for-profit groups. Since it's inception, Cornwall Comedy Festival has entertained over 3,500 guests and has helped raise over $30,000 for local not-for-profit groups. Cornwall Comedy Festival promotes shows throughout the year putting the best in Canadian comedic talent in the spotlight. Whether it's a pub show, theatre atmosphere or corporate event, Cornwall Comedy Festival promises top notch performances.
Categorised in: Arts and Entertainment, Business, Community, General, News