Cornwall Community Hospital Calls For Needed Supplies
April 1, 2020
Cornwall Ontario – With this unprecedented moment in mind, the Cornwall Community Hospital is calling on local businesses, organizations and individuals to donate any existing personal protective equipment (PPE) and supplies that may be beneficial to the doctors, nurses and staff who may best use them to keep our community healthy.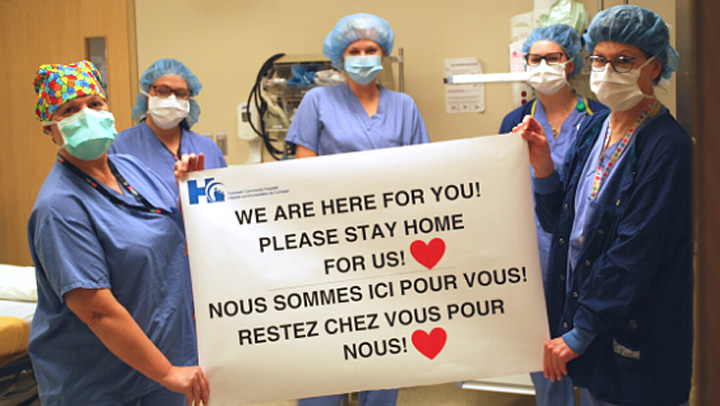 This request for help is not specific to Cornwall, and follows similar requests in Brockville, Ottawa and other Ontario hospitals.
"We are actively pursuing all avenues to obtain adequate supplies to protect all our health care workers, patients and community members moving forward," said Jeanette Despatie, President and CEO. "Supply procurement efforts are occurring across the country and with help from our community, we can minimize local spread of the virus."
Some help has already arrived with the donation of a ventilator and other supplies from St. Lawrence College, as well as the donation of supplies from ToysRUs Canada. However with confirmed cases of COVID-19 not expected to peak in Canada for some time, the need for equipment is urgent and ongoing.
How can you help?
The Cornwall Community Hospital is requesting the donation of items that comply with the legal directive issued by Ontario's Chief Medical Officer of Health and supported by science. Local businesses or organizations who may have a stock of PPE include manufacturers, contractors, garages, veterinarians and dental offices. At the current time, the following is a list of the items needed by local physicians, nurses and staff:
Procedure masks with or without visors
Visors and or safety glasses
Hand Sanitizer "table-top 500 ml"
Isolation gowns both level 2 and level 3
Nitrile gloves (latex free small/medium/large)
N95 masks (all types)
The hospital can only accept deliveries at this time and cannot coordinate pick-up of local items as staff continue to focus on supporting clinical activities. For more information, anyone willing to donate to CCH's COVID-19 response should email ppedonations@cornwallhospital.ca
"We ask that you share this request with any business or organization within your network that could support our staff, physicians and ultimately, our community," said Ms. Despatie. "We remain committed to exceptional care for our patients and community, no matter the circumstances. Your good health matters to us."
On a related note, Canada and Ontario have renewed calls for Canadian manufacturers to pivot (if possible) and switch production to personal protective equipment and supplies.
About the Cornwall Community Hospital
The Cornwall Community Hospital has historical roots that reach back beyond Confederation to 1897. Cornwall Community Hospital was incorporated in 2004 with the amalgamation of the Cornwall General Hospital and the Hotel Dieu Hospital, both with over 100 years of health care service to Cornwall and surrounding area. With the completion of a major redevelopment project in 2014, and the construction the Addiction and Mental Health Centre at the end of 2016, the hospital consolidated all acute care and community based services on the McConnell avenue site. Having everything on one campus positions the hospital well to serve its community for many years to come.

We summarize the latest news about the impacts of COVID-19 on Cornwall businesses on a daily basis. Click on the following link to view: