Cornwall Concert Series Kicks Off New Season
September 25, 2019
Cornwall Ontario – The Cornwall Concert Series launches another stellar season this Saturday, September 28th, continuing a 34-year tradition of bringing world-class entertainment to the Aultsville Theatre stage.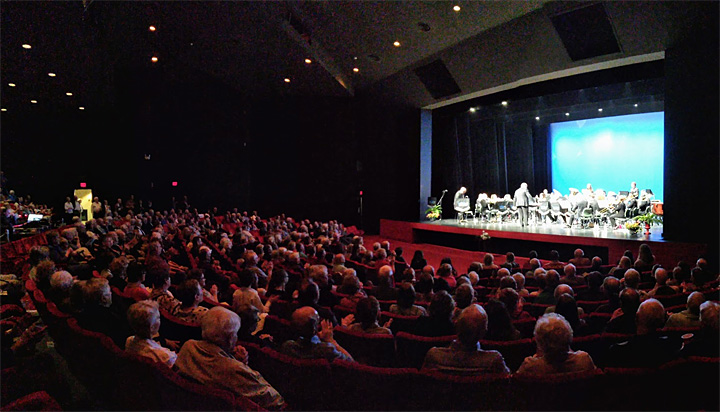 The 2019 edition of the popular series gets underway with a performance by the Montreal Guitar Trio (MG3), described by the CBC as the 'hottest guitar ensemble in Canada.'
For over 18 years, the trio's virtuosity, rigour, creativity and impressive stage presence — where humour and interacting with the public go hand in hand — have been winning over audiences around the world. The trio, composed of guitarists Marc Morin, Glenn Lévesque and Sébastien Dufour, has given hundreds of concerts in some of the most prestigious venues across North America, Europe, New Zealand and Australia, including the legendary Concertgebouw in Amsterdam, the Rundetårnet in Copenhagen and the BB King Blues Club in New York City.
Winner of the 2011 Opus Award for 'Concert of the Year' in the Jazz & World Music category, MG3 has released six albums, including Der Prinz which earned them a nomination at ADISQ 2014 for the 'Instrumental Album of the Year.' In January 2017, the trio launched its 7th album Danzas at the Théâtre Outremont in Montréal, which pays tribute to the great composers of Spanish music, including Paco de Lucia and Manuel de Falla.
"I am really excited with the line-up of artists we have for the season," said Scott Peterson, Chair of the Cornwall Concert Series. "We have had the Montreal Guitar Trio short listed for some time but just couldn't fit them into our schedule. It will be an amazing kick off to the season."
MG3 takes to the Aultsville Theatre stage this Saturday, September 28th, at 8 pm.
2019 Cornwall Concert Series lineup
On October 19th, Christopher Hall (clarinet), former principal clarinet of the Orchestre Métropolitain in Montreal, will take to the Aultsville Theatre stage. Hall delights people with beautiful music, while making them laugh from time to time. So now, instead of joking around while sitting in the orchestra, he performs as a stand-up comedian, and does various television and radio shows in both English and French.
Accompanied by the Andara String Quartet, Hall makes fun of the musicians, the music and especially all of the rituals surrounding the performance of classical music we have grown to live with, and all this just to remind the public that classical music is for everyone and does not require a PhD to be appreciated. In the past three years, Hall has performed his acclaimed concert 'Comic Orchestra' throughout Canada alongside some of the best symphony orchestras in the country. He also performed it with a chamber orchestra in July 2014 at the Montreal Just for Laughs festival in front of a crowd of 3000, to rave reviews. He has appeared in such prestigious Comedy festivals as the Just for Laughs, The Winnipeg Comedy Fest, and the Grand Rire in Québec City.
In 2010, he had the honour of hosting Whoopi Goldberg's show in Québec City as well as performing opening acts for several prestigious North American comedians. He has hosted travel shows for CTV, and won two Gémeaux awards (French Gemini award). Christopher is fluent in English, French, German and Italian. But whatever you do, do not take this man seriously!
The fall portion of the series closes with a Sunday matinee performance on November 24th, with Music Without Borders, featuring the Ladom Ensemble. The ensemble combines piano, cello, accordion, and percussion and is the best example of the musical integration that defines this country. They perform a unique blend of chamber and world music that is inspired by Argentinean tango, Serbian folk and dance traditions, Persian classical repertoire, as well as music from the classical (Bach, Prokofiev) and progressive rock worlds (Radiohead).
Beethoven on Record III, on Saturday, April 4th, features Juno nominated and Prix Opus award winners, pianist Charles Richard-Hamelin and Montreal Symphony Orchestra Concertmaster Andrew Wan as they continue their journey to perform and record the complete cycle of ten Beethoven sonatas for violin and piano.
The concert season ends on Saturday, May 2nd. Christine Tassan et les Imposteures bring together some of the best works by Django Reinhardt, Félix Leclerc and American swing composers. This double tribute recalls the meeting between the Gypsy guitarist and the Québec singer-songwriter in a Saint-Germain-des-Prés hotel in 1951, in Paris. They revisit hit songs created by George Gershwin, Louis Prima and Charlie Chaplin and blend them with Django's beautiful melodies.
A tradition of success
The year 2019 marks the 34th season for the Cornwall Concert Series, and it continues to grow in popularity with each passing year. One big reason for the success is its strong fan base – over 450 season subscriptions were sold last year and that trend is continuing again in 2019.
"We really count on our loyal subscribers who come back year after year," adds Peterson. "Subscriptions sales now allow us to budget and plan our season next year."
And that planning for the milestone 35th season is already well underway.
"We plan on making a significant investment in programming to celebrate," Peterson said. "We are thrilled to be opening our 35th season next September with Ballet Jorgen's Anne of Green Gables: The Ballet, which premieres in Halifax this Saturday. It was necessary to start planning to have this ballet almost a year ago, in order to get Cornwall on their touring schedule."
Ticket information
All concerts in the Cornwall Concert Series are held at Aultsville Theatre, a world-class performing arts venue with seating for 658 spectators.
Season subscriptions ($125 for all five concerts) and single tickets ($35) for all performances may be purchased in advance (cash or cheque) at these locations: TD Canada Trust, Cornwall Square and TD Canada Trust, 61 Ninth Street East; Caisse Populaire de Cornwall, 840 Pitt Street; and Jolly Tours, Eastcourt Mall.
Single tickets and subscriptions may also be purchased at the door on the evening of the performance subject to availability.
For additional information on the Cornwall Concert Series, please visit their website or Facebook page.
More Events
The above article was originally posted on CornwallTourism.com. Check out their website for the latest in events and tourism news.
Categorised in: Arts and Entertainment, Community, General, News