Cornwall Living Celebrates the New Cornwall
May 18, 2022
Cornwall Ontario – The ever changing and ever evolving city we call home is the focus of this year's Cornwall Living magazine.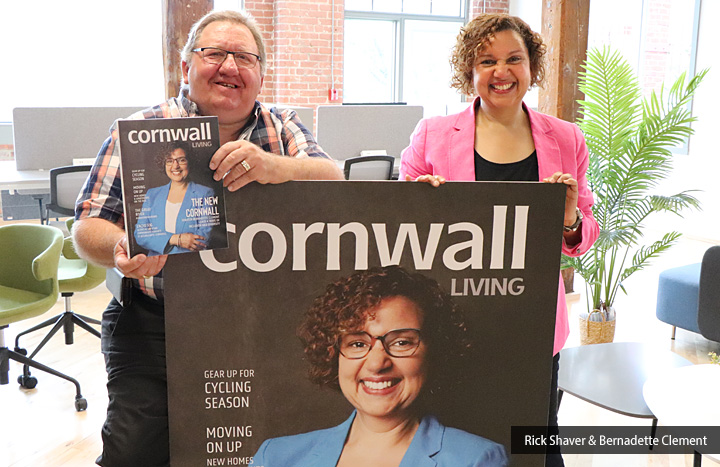 "We are proud to present the 2022 edition of Cornwall Living, which is a collaboration of so many people," says Rick Shaver, Publisher. "As you read the magazine and discover the people behind the stories, you realize that our community has never been better situated for long term growth and prosperity."
The cover story profiles Senator Bernadette Clement – and several other members of the community – who are leading a wave of diversity in Cornwall.
"I always look forward to the new edition of this magazine and I'm honoured to be on the cover," says former Cornwall Mayor, Senator Bernadette Clement. "This beautiful and welcoming community is a reflection of the hard work and dedication of its community members. Cornwall Living showcases the stories of what goes into making this place so great, with an eye for both its potential and exciting future!"
The 2022 edition of Cornwall Living marks the 28th year that the Seaway News has published a magazine celebrating life in Cornwall. This year's edition once again features some amazing stories and photographs, touching on all aspects of life in the area – including business, sports, arts and more.
"Each year Cornwall Living manages to thrill us with stories and photographs of amazing people in our city," says Mayor Glen Grant. "I am looking forward to not only reading this year's edition – but sharing it with local residents as well as friends and family who live outside of our region."
The 116 page magazine includes feature articles on a variety of topics. Some of the key stories include:
Insider Tips on Nailing that Interview – Advice for job seekers from local HR professionals
Elemental Entrepreneurship – New businesses are opening up across the region
Finding Your Inner Artist – The Cline House reopens with art expositions and workshops
Behind Closed Doors – Indoor farming is changing how we grow our food
The St. Lawrence River – Explore and respect the Great River
Choose the Right Bike for You – Cornwall is a cycling haven – do you have the right ride?
A Place to Live – New housing projects are rising to meet demand
Brick and Mortar Investing – Local property owners are reinvesting the future of Downtown
Share This – Dozens of photos from local residents
A 13-page section in French that profiles the local Francophone community
Choose Cornwall News
and many more…
More than anything else, Cornwall Living profiles the success of individuals in all walks of life.
"I love living in Cornwall and telling the stories about people succeeding here," says Mr. Shaver. "Cornwall Living continues to be our flagship publication – and we love it when people take it on their travels and share it around the world."
Cornwall Living magazine is designed and edited by Colleen Parette, and many of the photographs are taken by local photographers. The magazine has an overall circulation of over 30,000.
Global Reach
Cornwall Living is always a popular addition to the information packages that Cornwall Economic Development sends out to business and residential investors. In addition to trade shows and other efforts, the magazine finds its way to thousands of individuals, businesses and government officials in Canada, the United States and abroad.
Get your copy!
Cornwall Living will be distributed to 20,000 homes in Cornwall and SDG, starting next week. A copy of the magazine can be picked up at the Cornwall Civic Complex and at the office of the Seaway News in the Cornwall Business Park. Over the next week or so, the magazine will also be available at local businesses.
Categorised in: Arts and Entertainment, Business, Community, Environment, General, News, Sports