Cornwall Living Shines the Spotlight on Local Actors
May 28, 2019
Cornwall Ontario – Hard work and tenacity – key attributes that define success in life – and in the world of entertainment.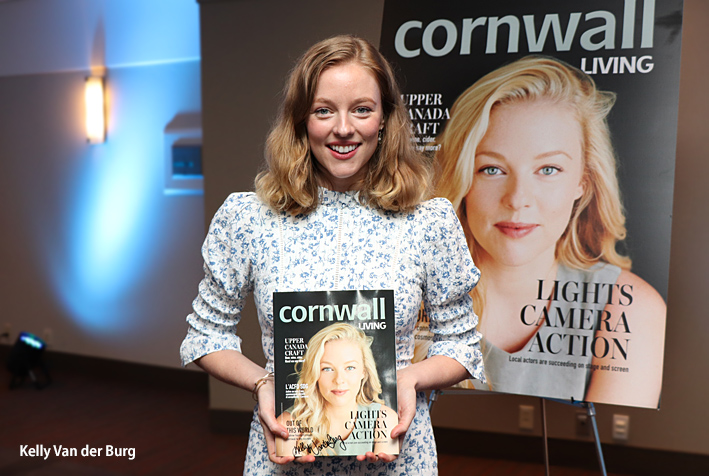 A number of young actors are achieving success in Canada, the USA and beyond, and it is this success that is explored in the latest edition of Cornwall Living. Grace Van der Burg is featured on the cover of this year's magazine, and she is joined inside by fellow actors Helena Alexis Seymour, Tyler Murree, Brandon Oakes and Kiawenti:io Tarbell. Together they form a crop of talented performers – all with roots to the area – that are turning heads on stage, TV and at film festivals. Of course, one of the more famous actors to hail from Cornwall is Ryan Gosling, who was featured in a previous edition. This year the magazine focuses on up and coming actors who may not be exactly famous… yet.
"You have to love what you do. If you are doing it for fame or money, then you're in it for the wrong reasons," says Ms. Van der Burg.  "I've been fortunate enough to work in films on both Canadian coasts, but I'm always happiest coming back to my hometown. I would love to direct a play here someday."
The 2019 edition of Cornwall Living marks the 26th year that the Seaway News has published a magazine celebrating life in Cornwall. This year's edition once again features some amazing stories and photographs, touching on all aspects of life in the area – including business, sports, arts and more.
"I love living in Cornwall and telling the stories about people succeeding here," says Rick Shaver, Publisher. "Cornwall Living continues to be our flagship publication – and we love it when people take it on their travels and share it around the world."
The 132 page magazine includes feature articles on a variety of topics. It explores Cornwall Francophone heritage as well as the Mohawk Nation of Akwesasne. Some of the key stories include:
Leclerc Cookies – Cornwall's new food processor promises a tasty treat
Upper Canada Craft – Exploring local producers of beer, wine and cider
Out of this World – An interview with astronaut Andrew Feustel
Pitt Street Garden – Cornwall's urban farm takes root
Turning Dreams into Reality – Entrepreneurs launch new businesses
Community Improvement – The Revitalization of the Cline House
Creating Champions in Cornwall – The success of Apeiron Mixed Martial Arts
Choose Cornwall News
and many more…
More than anything else, Cornwall Living profiles the success of individuals in all walks of life.
"It always comes to down to that personal story, the reason behind why people do what they do," says Mr. Shaver. "One of my favourite sections of the magazine is "Share This", where we share photos taken of people celebrating their achievements."
Cornwall Living magazine is designed and edited by Colleen Parette, and many of the photographs are taken by local photographers. The magazine has an overall circulation of over 40,000.
Cornwall Living is always a popular addition to the information packages that Cornwall Economic Development sends out to business and residential investors. In addition to trade shows and other efforts, the magazine finds its way to thousands of businesses and government officials in Canada, the United States and abroad.
Get your copy!
A copy of the magazine can be requested by filling out the request form on this website. It is also available at a number of locations throughout Cornwall, including local restaurants, hotels, Cornwall Square, Benson Centre and at the Visitor Information Centre at the Cornwall community Museum.
Categorised in: Arts and Entertainment, Business, Community, Environment, General, News, Sports