Cornwall Moves Into Red-Control Level
March 26, 2021
Cornwall Ontario — The region governed by the Eastern Ontario Health Unit is moving to the Red-Control levels in the COVID-19 Response Framework: Keeping Ontario Safe and Open. This region includes the City of Cornwall, United Counties of Stormont Dundas Glengarry and Akwesakne as well as the United Counties of Prescott and Russell.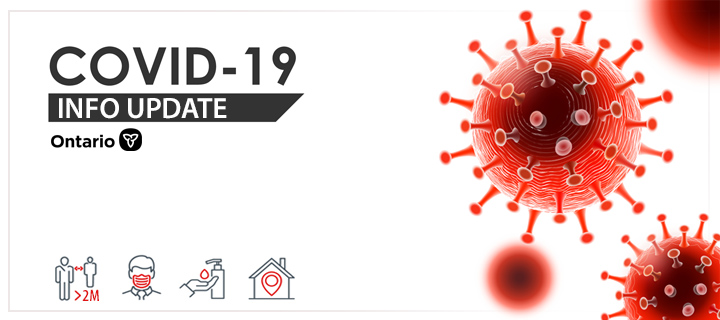 Decisions were made in consultation with the local medical officers of health and are based on the trends in public health indicators and local context and conditions.
"Over the last week, we have continued to see some concerning trends in key health indicators in regions across the province," said Christine Elliott, Deputy Premier and Minister of Health. "As we cautiously make targeted adjustments to public health measures to support the wellbeing of individuals and small business owners, it is critical that everyone remains vigilant and continues to strictly follow all public health measures and advice to keep each other safe."
The move takes effective Monday, March 29, 2021 at 12:01 a.m.
Red – Control Regulations
---
---
---
---
---
---
---
---
The above regulations have been sourced from the Ontario Government website and may have changed over time.  Please view the regulations for full details.
The province is also modifying outdoor capacity limits for weddings, funerals, and religious services, rites or ceremonies held in regions in all levels of the Framework. Effective Monday, March 29, 2021 at 12:01 a.m., capacity limits for weddings, funerals, and religious services, rites or ceremonies, will be adjusted to allow for the number of individuals that can maintain two metres of physical distance. This change does not apply to social gatherings associated with these services, such as receptions.
Targeted enforcements are being applied, with an enhanced focus in public health regions identified in the Yellow-Protect, Orange-Restrict, Red-Control and Grey-Lockdown levels. This includes conducting field visits to check for compliance with the Reopening Ontario Act.
To ensure the continued health and safety of individuals and families, as public health measures are cautiously adjusted, the government is modifying the activation of an "emergency brake" which would allow the Chief Medical Officer of Health, in consultation with the local medical officer of health, to advise the immediate reimplementation of the previously lifted provincewide Shutdown measures if a public health region experiences a rapid acceleration in COVID-19 transmission or if its health system is at risk of becoming overwhelmed.
"Adjusting the emergency brake to allow for the recommendation to immediately implement shutdown measures in regions experiencing a rapid increase in transmission is important given the changes to the public health measures in the Grey-Lockdown level and will provide an extra layer of protection as we continue to fight this virus," said Dr. David Williams, Chief Medical Officer of Health. "While adjustments are being made to the emergency brake and certain public health measures, the latest data continues to show some worrying trends throughout the province, and variants of concern remain a significant threat to public health. That is why it is important that people remain cautious and vigilant in order to minimize the transmission of COVID-19 and protect themselves and their communities."
Quick Facts
Additional Resources
Business Reopening Toolkit
Cornwall Economic Development has put together a toolkit to help businesses reopen. The toolkit includes guidelines and a maximum occupancy calculator along with signs and posters that can be downloaded and printed:

We summarize the latest news about the impacts of COVID-19 on Cornwall businesses on a daily basis. Click on the following link to view: