Business Reopening Toolkit
Each business owner in Cornwall needs to examine their operations and make changes to meet public safety guidelines. Cornwall Economic Development has developed this Business Reopening Toolkit to help in this process. This includes downloadable safety plans, employee checklists, posters and more – including a maximum occupancy calculator.  The following information and resources are free to be used and shared.
The following documents provide a good summary of things you need to consider. Click on the following links to download:
Many businesses in Ontario are required to have a COVID-19 Safety Plan. The following Word document provides a template business owners can follow to complete this task:
Posters, Signs and Decals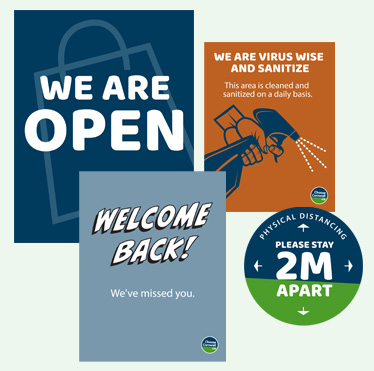 Download and print the following signs, posters and floor decals for use in your business:
General Use Posters
Covid-19 Response Framework Posters
Factsheets, Employee Checklist and Occupancy Calculator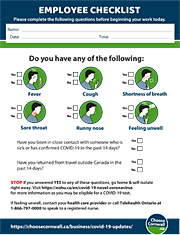 Download and print the following fact sheets to share with your employees
Webinars
The Cornwall Business Enterprise Centre has a number of free webinars aimed at local business owners.
Access to Personal Protective Equipment (PPE)
Sector Specific Safety Information
Restaurants and Food Services
Construction
Retail
Arts, Culture, Festivals and Events
Manufacturing
Office
Healthcare Providers and Personal Services
Agriculture
Outdoor Recreation
Health Unit Resources
As the COVID-19 pandemic evolves, please visit the Eastern Ontario Health Unit for the latest information.
Additional resources
The resources above are intended to provide guidance to businesses to prepare for safe reopening, subject to direction from the Province of Ontario and the Eastern Ontario Health Unit and should not be construed as legal advice or to replace specific instructions that may be issued by either the Eastern Ontario Health Unit or Province.

We summarize the latest news about the impacts of COVID-19 on Cornwall businesses on a daily basis. Click on the following link to view: