Cornwall Receives Resilience Infrastructure Funding
June 16, 2021
Cornwall Ontario – The governments of Canada and Ontario are investing close to $800,000 in Cornwall as part of an overall project that will see $22.2 million expended to protect the health and well-being of residents in 130 municipalities throughout eastern Ontario.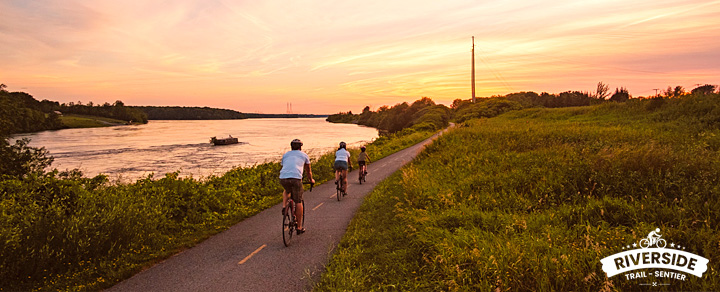 The funds received by Cornwall will be used to complete an expansion of the city's active transportation network, which includes expansion of the bike path network, new sidewalks and new park furniture. Also supported is a new sound system for the Civic Complex.
"This funding is certainly welcome," says Mayor Bernadette Clement. "These projects are part of the long list of capital improvement projects approved by Council earlier this year and will provide residents with access to modern recreational amenities such as our Riverside Trail where they can safely maintain an active and healthy lifestyle."
The COVID-19 Resilience Infrastructure Stream, implemented in response to the pandemic, allows the Government of Canada to invest up to 80 per cent of total eligible costs for projects in provinces, and up to 100 per cent for projects in territories and Indigenous communities. The Ontario government will invest 20 per cent of the eligible costs for projects across the province. The Cornwall grant is made up of a contribution of  $627,786 from the Government of Canada and $156,947 from the Province of Ontario.
As we continue to face the COVID-19 pandemic, we must ensure the health and safety of all Canadians," said MP Mark Gerretsen, on behalf of Catherine McKenna, Federal Minister of Infrastructure and Communities. "Today's investments will allow thousands of residents in 130 communities across eastern Ontario to have safe and reliable access to important community infrastructure for years to come. By investing 80 cents on every dollar toward the important projects initiated by municipalities, the Government of Canada is responding to the immediate pressures and concerns of communities as a result of the pandemic. Canada's infrastructure plan invests in thousands of projects, creates jobs across the country, and builds stronger, more resilient communities."
Surrounding townships in Stormont Dundas and Glengarry also received approximately $545,000 to support projects in those communities.
Quick Facts
Through the Investing in Canada plan, the Government of Canada is investing more than $180 billion over 12 years in public transit projects, green infrastructure, social infrastructure, trade and transportation routes, and Canada's rural and northern communities. Ontario is investing $10.2 billion in this program.
To support Canadians and communities during the COVID-19 pandemic, a COVID-19 Resilience Infrastructure Stream has been added to the over $33 billion Investing in Canada Infrastructure Program to help fund pandemic-resilient infrastructure. Existing program streams have also been adapted to include more eligible project categories.
The COVID-19 Resilience Infrastructure Stream funding stream guarantees a minimum of $100,000 to each of the province's 444 municipalities. Additional funding has been allocated to municipalities based on a variety of factors, including the value of infrastructure and median household income in each municipality.
Through the COVID-19 Resilience Infrastructure Stream, over $3 billion is available to provide provinces and territories with added flexibility to fund quick-start, short term projects.
The Government of Canada has invested over $14 billion in more than 3,400 infrastructure projects across Ontario under the Investing in Canada plan.
Additional Information