Ribfest Back to Delight with Great Food and Good Fun
July 26, 2018
Cornwall Ontario – The sauciest event of the year is back! Ribfest is coming to Cornwall once again on July 26-29 for a weekend full of entertainment and juicy ribs.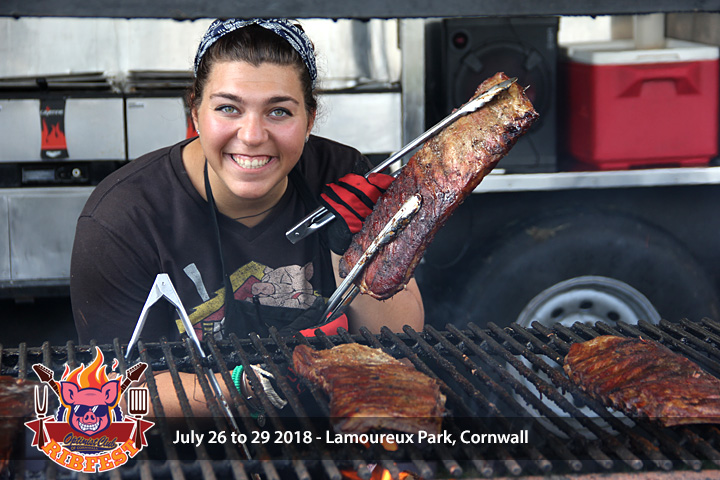 Ribfest is a fun-filled 4-day BBQ extravaganza that is based in  Lamoureux Park overlooking the St. Lawrence River. In ever increasing numbers people descend into the park to enjoy delicious ribs, live music, a midway and kid zone. It's free admission, free parking and free music.
This will be the seventh edition of Ribfest in Cornwall.  The Optimist Club of Cornwall took over the reigns of the event from the Lions Club in 2017, and is back to run the show this year.
"Last year, we raised close to $70,000 for youth," says event co-chair Terry Muir. "Now, we're looking forward to Ribfest 2018, with even higher aspirations. After all, it just keeps getting better every year!"
Ribfest promises good fund and fun for the whole family. There is a beer garden for adults as well as carnival rides and a free kids zone for the kids. The event also takes place during the Downtown Summer Celebration.
Ribfest is open from 11am to 11pm Thursday through Saturday, and from 11am to 9pm on Sunday.
Ribbers
Patrons have the chance to sample chicken, pulled pork and ribs from 6 of the best ribbers in North America. Fans can also vote for their favourite.
Chop Shop
Crabby's BBQ Shack
Fatboy's
Rib's Royal
Smokehouse Bandits
Texas Rangers
Carnival Rides (Midway)
Carter Shows has been the proud partner of Cornwall Ribfest since the very beginning. Once again this year, they will be providing various carnival rides and games for the whole family to enjoy.
Tickets are $30 at the fair, but you can save $5 if you buy in advance! Get a midway bracelet for only $25, valid for one day, for all rides, as many times as you want if you buy online or in person at the following locations:
The Local Seeker
Little Caesars Pizza
Cornwall Civic Complex
Floral Expressions
The Maker Shop
Entertainment Lineup
Thursday
4:30 – Ribfest Idol
5:30 – Opening Ceremonies
6:00 – Rez Pony
7:30 – Soundcheck
9:30 – Red/Taylor Swift
Friday
1:00 – Derek Falls Band
2:30 – Sevengate
4:00  – Twisted Kilt
5:30 – Gravel Hill
7:30 –  Little White Lies
9:30 – Absolute Journey
Saturday
12:00 – GrungeBot
1:30 – Shelter Valley
3:00 – Radio Nova
4:30 – Coldrift
6:00 – Mena Hardy
7:30 – Capital Beatles
9:30 – Carl Dixon sings the Guess Who
Sunday
12:30 – Moonlight Ride
2:00  – Kilts, Riffs and Spurs
3:30 – Practically Petty (Tom Petty)
5:30 – Road Apples (Tragically Hip)
For more information about this year's festival, please follow these links: