Cornwall Tribute Looks at Local Women Leaders
June 6, 2019
Cornwall Ontario – Mayor Bernadette Clement is the cover story of the 2019 edition of Cornwall Tribute.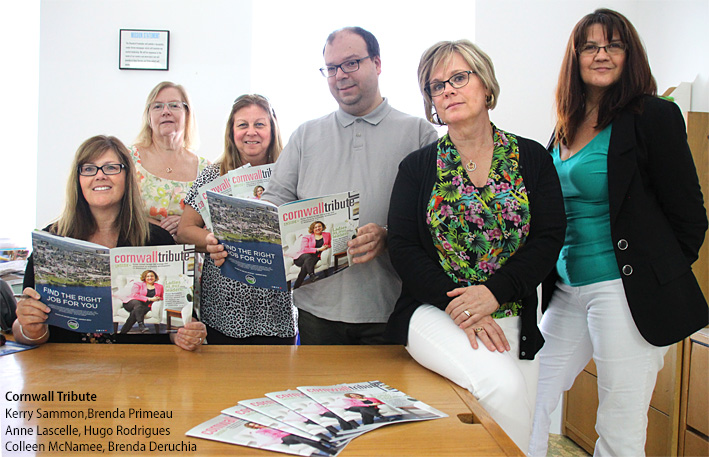 The magazine features 40 pages of stories and photographs in women who are leading the way in their respective sectors, including Lezlie Strasser from the Cornwall Chamber of Commerce, Kylie Tarbell from Shé:kon Akwesasne, Dawn Kiddell at the Cornwall Public Library, Leslie Thompson of the Community Futures Development Corporation and Maureen Adams, CAO for the City of Cornwall.
"Women are providing the leadership in holding key roles that make ours a good place to live, work and play," says Hugo Rodrigues, Managing Editor of the Standard-Freeholder. "Women are born leaders. It shouldn't surprise anyone those talents are welcomed and put to work in the community."
The glossy lifestyle magazine is published by local newspaper Standard-Freeholder. The 2019 edition marks the 6th anniversary of Cornwall Tribute, although the publication can trace it roots back to the early 1990s when the paper produced a large tabloid called the Progress Edition.
Mayor Clement was elected to office in October 2018, having previously served as city councillor for the previous 12 years. She is the first woman elected mayor of Cornwall as well as the first black, Francophone woman elected mayor of any municipality in Ontario.
"I am delighted that Cornwall Tribute took the time to highlight the efforts of so many of our local women leaders," says Mayor Clement. "Cornwall has the elements in place to attract new residents and investment and prosper as a leading community in Ontario. I look forward to working together with local community and business leaders to create even more opportunities for our residents to succeed!"
Cornwall Tribute will have a total circulation of 9,000. Cornwall Economic Development will be distributing 1000 copies to people looking to move to the City.
About the Standard Freeholder
The Standard-Freeholder is Cornwall's daily newspaper and is one of the oldest newspapers in Canada.  The current newspaper began as two publications, the Freeholder, which was founded by the first premier of Ontario, John Sandfield Macdonald, and the Standard. The two newspapers were amalgamated in 1932 and the first issue was published on April 30 of that year. The Standard-Freeholder became a daily newspaper on April 1, 1941. Today, the paper is a division of POSTMEDIA Network Inc..
Categorised in: Arts and Entertainment, Business, Community, News