Cornwall Walking Tour Featured in National Publication
March 7, 2019
Cornwall's historic walking tour has been featured in a national publication.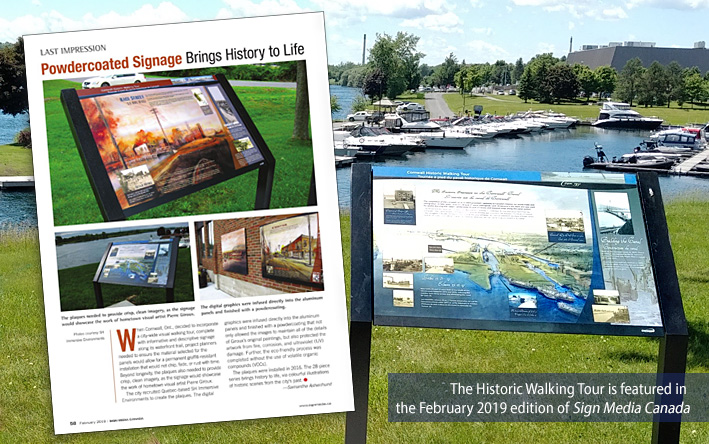 In the 'Last Impressions' feature in the February 2019 issue of Sign Media Canada, reporter Samantha Ashenhurst explores how the 28 plaques that make up the Historic Walking Tour help bring Cornwall's rich history to life.
The Historic Walking Tour debuted in 2016 and expanded again a year later. It has been a hit with tourists and residents alike.
The magazine article was noticed by local business owner Wendy Grant.
"It was really nice to see Cornwall profiled in a national publication," said Ms. Grant, owner of Cornwall City Press and The Sign Factory. "The Historic Walking Tour is a top-notch attraction and showcases the value of using signs to create self-guided tourism activities."
The Historic Walking Tour is made up of 28 plaques that profile a different event or milestone in Cornwall's rich history using colourful illustrations by renowned Cornwall artist Pierre Giroux and research from local historian Lily Worrall. The artwork was infused directly onto aluminium panels and infused with a powder-coating that makes each plaque resilient to climate and environmental impacts.
Individually each plaque is impressive, yet together they form a tapestry that weaves throughout the City.
The Historic Walking Tour is a collaboration between the Downtown and Le Village Business Improvement Areas, and was supported by the City of Cornwall.
While passersby can enjoy the tour in any location, and from any direction, the fun begins along the Waterfront Trail along the St. Lawrence and continues inland.
Tour Map
Click on the following link to see a complete list of plaques and to download a map of the tour:
About Sign Media Canada
Sign Media Canada is a magazine serving individuals with broad-based interests in the sign, print graphics, digital imaging and advertising industries. The publication includes news, commentary and in-depth technical articles. The content of every issue is also available to a global audience via an online digital version.
You can view the February 2019 issue of Sign Media Canada by clicking here.
Categorised in: Arts and Entertainment, Business, General, News