Cornwall Waterfest Paddles Into Town This Saturday
August 8, 2022
Cornwall Ontario – One of Cornwall's biggest summer events is back for another year of fun on the waterfront.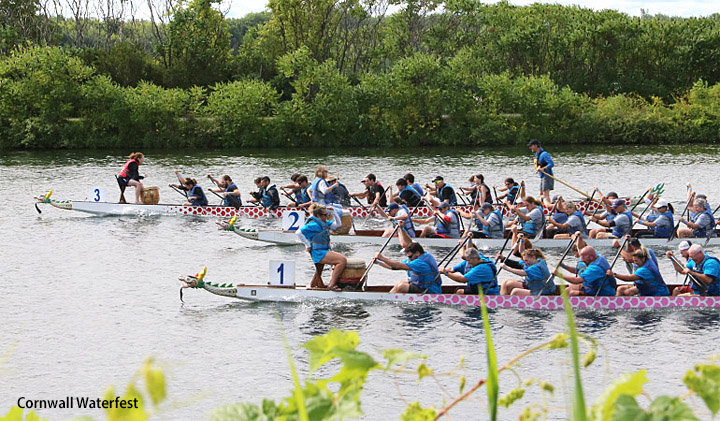 Cornwall Waterfest returns to the Cornwall Canal on Saturday, August 13th with a full slate of activities headlined by the majestic dragon boats that have become the festival's calling card.
This year's event will feature a full day of dragon boat races with a total of 21 teams competing in four divisions – competitive, ladies, recreational and community. It's one of the biggest turnouts in the event's history, with the majority of teams coming from outside of the Cornwall area to take part.
"We have seven local teams and the remainder are coming from out of town," said Lea Emard, one of the organizers of the event. "We have quite a few new teams this year and we're attracting more groups and different groups of people (to take part), which bodes well for the future."
The dragon boat races are staged at the historic Cornwall Canal (south of Second Street West and Power Dam Drive) and features teams of 20 – and a drummer – racing one another on the majestic vessels along a 200-metre course. Spectators often line the canal banks to watch the races and cheer on the teams while enjoying the beautiful venue.
In addition to the dragon boat races, a variety of food and craft vendors set up at the festival grounds offering a delicious selection of food and drinks as well as one-of-a-kind items. Make sure to save some time to grab a bite and browse the unique artwork, crafts and specialty items on offer.
Throughout the day, DJ Shellshock will be pumping the beats to keep the energy going.
Best of all, the event is free to attend!
Support Cornwall Hospice
Waterfest supports Cornwall Hospice, a local facility that provides end of life care in a home-like setting to residents of the area.
Teams and individuals are invited to pledge funds or make a donation and festival attendees can also take part in a 50-50 draw and silent auction on the day of the event.
Additional information
​For additional information on Cornwall Waterfest, check online:
Cornwall Event Calendar
Looking to find out what's on in the Cornwall area? Check out Cornwall Tourism's website:
Categorised in: Arts and Entertainment, Business, Community, General, News, Sports