Cornwall Whisky Show Earning International Acclaim
March 22, 2019
Cornwall Ontario – The Wonderful World of Whisky Show got underway last night with a 5-course meal that brought together the very best in food with some of the world's best whiskies.  It helped kick-off a new expanded 3-day format for the Show, an event which is quickly earning international acclaim.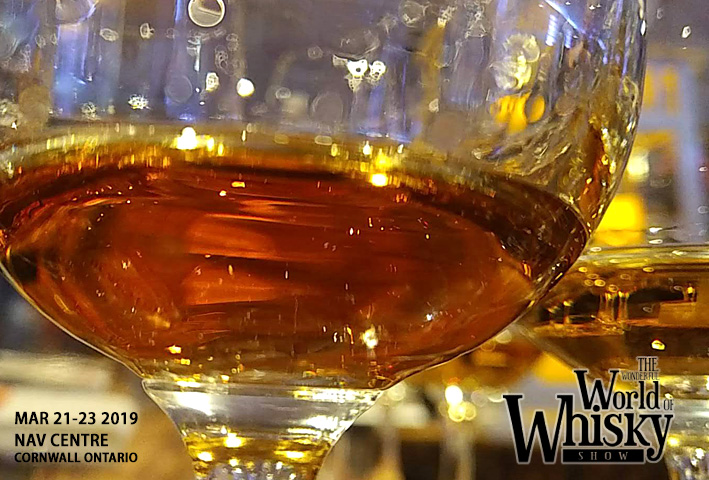 "This is a pretty special show, and I am so very happy to be back in my hometown to celebrate its success," says Michael Brisebois, National Brand Ambassador for Bunnahabhain Islay Distillery, Deanston Distillery, and Tobermory Distillery – all in Scotland. "There are a number of whisky shows in the world, but nobody does it quite like Cornwall."
The Wonderful World of Whisky Show includes dinners and lunches along with master classes where industry experts guide tastings of rare and exclusive whiskies. The show culminates in the main event Saturday night when the spacious ballroom at NAV CENTRE is transformed into a world of tents – each with their own theme. Attendees will be able to sample over 150 whiskies from Scotland, Ireland, Japan, Canada and the USA, while enjoying live music and the culinary talents of Executive Chef Luc McCabe.
This year, over 750 people are expected to attend the Show – an increase of 40% from last year. Many attendees are from across Canada and the USA, as well as a number of people from Europe.
"We have worked hard to create an experience that brings people together for good conversation and great food – all enjoyed with a 'wee dram' of the world's best whiskies," says Ian Bentley, Director of Conference Services & Food and Beverage with the NAV CENTRE.  "Attendees have the opportunity to try something rare and unique, and talk to people that are involved in the centuries old craft of distilling spirits. It is also a great opportunity to introduce them to Cornwall, and all of the wonderful things that make this city such a great place to live."
Some of the best known names in the whisky world are in Cornwall for the event, including Bill Somerville, Stephen Woodcook, Matt Jones and Joanne McInnes, the Whisky Lassie.  Joining Chef Luc McCabe in creating some unique food for the show is Chef David Duarte from the Social on 83rd restaurant in Phoenix Arizona.
The 2019 Wonderful World of Whisky Show is sold out, although tickets to some of the Master Classes are still available. A full schedule with dates and times is outlined on the website https://navplay.ca
You can follow the Word of Whisky Show on Twitter @WWofWhiskyShow
One final thought, courtesy of Ian Bentley, the event creator and organizer:
"Whisky is very much an art form… much of the pleasure is in exploring!"

About the NAV CENTRE
The NAV CENTRE is a training and conference venue owned and operated by NAV CANADA. It offers access to 550 guest rooms, 70 state-of-the-art classrooms and meeting rooms, as well as an auditorium. Other amenities include a gymnasium and fitness facilities, as well as multiple dining options. The NAV Centre is also an accredited member of the International Association of Conference Centres (IACC), provided for adhering to globally-recognized standards in hospitality service.
Categorised in: Arts and Entertainment, Business, General, News