Cornwall's Culinary Side featured in TASTE Magazine
November 1, 2019
Cornwall Ontario – You will have to excuse Chef Luc McCabe if every second photograph of him includes meat somehow. It's not his fault, really. It just so happens that he really enjoys sharing his love for high end food, and often that includes meat in some way.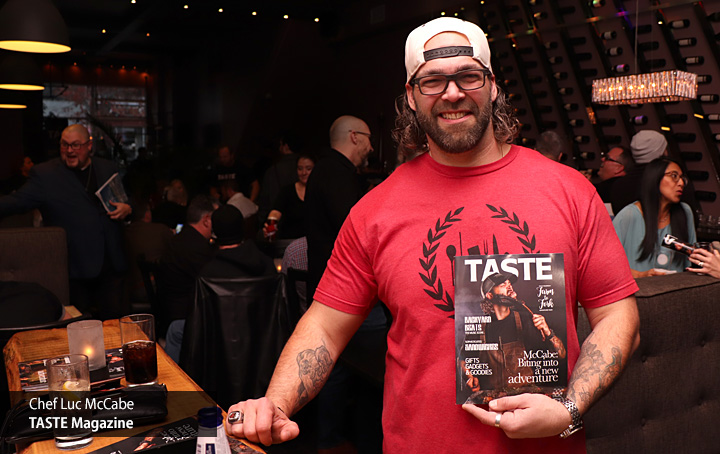 Chef Luc McCabe is featured on the cover of the third edition of Taste Magazine and once again the publication is jam packed with stories and photographs from Cornwall's culinary scene. The glossy 68 page magazine is produced by Seaway News, and in addition to food, carries a number of stories on lifestyle and entertainment.
"We never run out of stories to feature in TASTE because Cornwall restaurants and merchants are always finding a new way to treat us," says Patick Larose, Director of Sales for Seaway News and the driving force behind the magazine. "The magazine is the perfect fall guide to great dining, shopping & entertainment options, for residents and visitors alike."
This year's cover story chronicles the adventures of Chef Luc McCabe, who for several years managed the state-of-the-art kitchens at the NAV CENTRE. Chef McCabe is embarking on a new adventure, which has included participation in international culinary events and a recent invitation to travel to Japan to become certified as one of only a handful of Wagyu beef chefs in the world.
"Cornwall has a lot of great things going on right now, and I am happy to represent Cornwall whenever I travel," says Chef McCabe. "Great food is always an adventure – take a chance and try something new, even if it is cooking for your family at home."
TASTE magazine includes a number of recipes from local chefs and food celebrities as well as feature articles on "Farm to Fork" and the expanding international flavours of eating in Cornwall. It also explores the local music, and provides some tips on where to find hot new fashion and grooming products.
"Cornwall business are brewing up new ideas, they showcase excellent fashion and our theatres are rocking out great shows and performances," says Rick Shaver, General Manager of Seaway News. " TASTE is about living in our community."
TASTE was launched two years ago to build upon the success of the popular Cornwall Living magazine. Content was sourced from local writers and photographers and put together a modern professional layout designed by creative director Colleen Parette.
Over 20,000 copies of TASTE were produced. The magazine is available in racks throughout the city as well as at popular local store and restaurants.
You can request a copy of the magazine via the Contact Us page, along with other publications.
Categorised in: Arts and Entertainment, Business, Community, General, News