Cornwall's Iconic Bridge Pier Lit Up Along Waterfront
June 22, 2021
Cornwall Ontario – The iconic bridge pier along Cornwall's waterfront has a bright new look.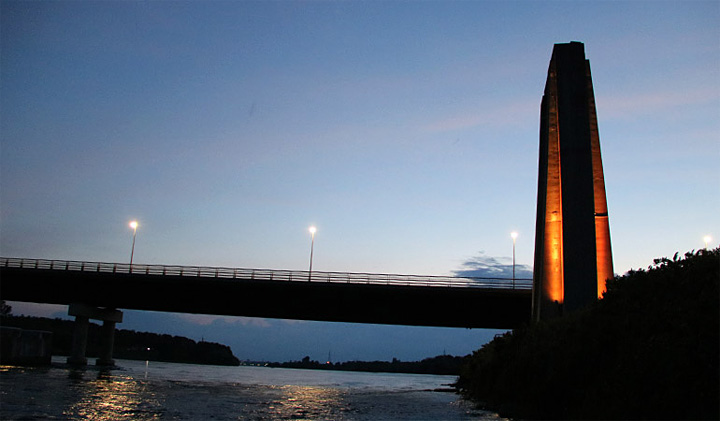 The towering landmark – a remnant of the iconic north span of the Seaway International Bridge that dominated Cornwall and Akwesasne's skyline for over half a century – has been equipped with LED lights to give the structure a whole new look at night.
The result is a beautiful new visual element that will greet residents and visitors when entering Cornwall via the international bridge crossing or while exploring Lamoureux Park.
"It's a nice way to add some emphasis to the (bridge) lookout. It's the southern gateway to the city," said Todd Kealey, Director, Business Development, Government and Public Affairs with the Federal Bridge Corporation.
The new lighting system formed part of a much larger plan to rehabilitate and preserve the bridge pier on the Cornwall riverbank. The towering structure is located immediately next to the Riverside Trail – part of the larger Waterfront Trail network extending across Ontario – and features a lookout platform and rest area at the base along with historical plaques and information about the bridge crossing.
"It's always been part of the pier development plan dating back several years," Kealey added.
Kealey said it also fits with the Federal Bridge Corporation's ongoing efforts to covert lighting at all of its bridges to the more cost-effective LED lighting.
The new cost-effective lighting system will illuminate the bridge pier nightly from dusk to dawn. It is currently lit in orange in honour of National Indigenous Peoples Day and the plan is to change it to honour other special days or holidays throughout the year.
"It's a new part of the (Cornwall and Akwesasne) skyline now," Kealey said.
The previous high-level bridge crossing from Cornwall to Cornwall Island was completed in 1962 and served the city for decades before being decommissioned and demolished. It was replaced with the current low-level bridge crossing which opened in 2014.
Categorised in: Arts and Entertainment, Business, Community, General, News