Doors Open this Saturday to Iconic Cornwall Buildings
August 14, 2018
Cornwall Ontario – Discover some of Cornwall's beautiful heritage during Doors Open Cornwall on Saturday, August 18th.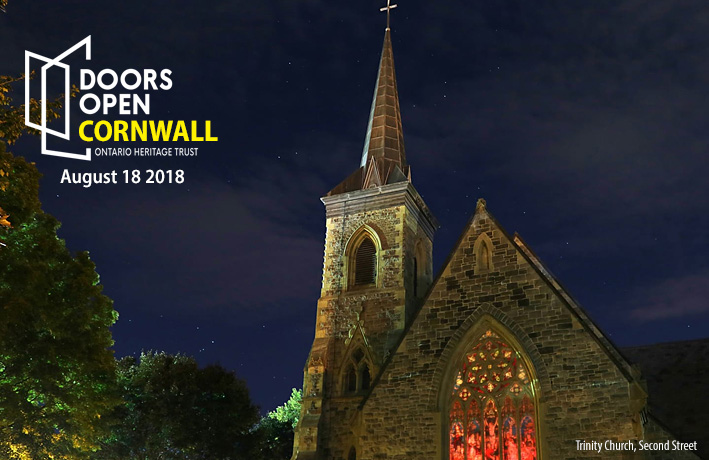 This year's Doors Open event will see 11 sites in Cornwall opening their doors to visitors free of charge.
"Cornwall is one of Ontario's oldest communities and we have a great history to share and celebrate," said Kevin Lajoie, Tourism Coordinator with Cornwall Tourism. "Doors Open gives residents and visitors a chance to discover some of our landmark buildings and the interesting stories behind them."
This year's Doors Open list features a mix of returning sites as well as a few new locations. Spend the day exploring museums and public buildings, theatres and art galleries, an historic church and much more.
Doors Open Cornwall
Saturday, August 18 from 10 am to 4 pm
Participating locations:
Aultsville Theatre
2 St. Lawrence Drive (at St. Lawrence College)
Take a backstage tour and see where the performers prepare themselves. Get a behind-the-scenes look at the theatrical lighting, rigging and operations that bring productions and performances to life.
Cline House Gallery
204 Second Street East
Take a trip back in time with a visit to the Cline House Gallery, a beautifully-restored Downtown home built in the 1850s which is now operated by two well-known Cornwall artists – Tracy-Lynn Chisholm and Emily MacLeod.
Cornwall Community Museum
Lamoureux Park
Discover Cornwall's historical roots at the Cornwall Community Museum in Lamoureux Park. See the 1900s kitchen, the circa 1910 study, the 1950s-era dining room and much more.
Cornwall General Hospital Down Memory Lane Tour
510 Second Street East
A movement is afoot to create a permanent commemoration of the former Cornwall General Hospital. Come tour the area and learn about how these memories are being preserved.
Cornwall Historical Walking Tour
Various sites
This 6-kilometre (3.7-mile) self-guided walking tour is a voyage into Cornwall's heritage, with 30 plaques depicting events and points of interest from Cornwall's past. Pick up your map at the Cornwall Tourism Visitor Information Centre at the Cornwall Community Museum and start your journey!
Cornwall Public Library
45 Second Street East
Stop by one of Cornwall's most iconic landmarks and learn about this beautiful building and its various uses prior to becoming the Cornwall Public Library.
Former Bank of Montreal
159 Pitt Street
This Downtown landmark is slated to become Cornwall's new Arts and Culture Centre. Stop in to admire the architectural beauty of this facility, learn about its future plans and participate in a unique fundraiser!
Historic SDG Jail
11 Water Street West
Explore one of Ontario's oldest public structures which is now home to many historical artifacts and displays. The site will be open from 10 am to 2 pm.
The Port Theatre
132 Montreal Road
Stop in at 10 am for a guided tour of this historical landmark followed by a screening of a 40-minute documentary showcasing the building's history from its origins as The Roxy in 1941 to the present. (Please note event is at one time only, please arrive 10 minutes early)
St. Lawrence Power Development Visitor Centre
2500B Second Street West
This innovative building tells the story of one of the greatest chapters in Cornwall's history. Learn about the St. Lawrence Seaway, the power project and its impact on surrounding communities.
Trinity Anglican (Bishop Strachan Memorial) Church
105 Second Street West
Visit this beautiful Gothic style church featuring marble floors, stained-glass windows, a Casavant organ, and plaques and memorials to early Cornwall citizens.
SDG Locations
You can continue your experience with a visit to a number of other locations in SDG, including:
Aultsville Train Station
Bethune-Thompson House
Carman House Museum
Glengarry Pioneer Museum
Lost Villages Museum
Martintown Grist Mill
Priests Mill Art Centre
Sir John Johnson House
Springfield Farm
St. Andrew's Church
St. John's Anglican Church
For more information about the Doors Open event or on each location, visit the following links:
About Doors Open
The Cornwall event is affiliated with Doors Open Ontario, a province-wide initiative to draw attention to heritage sites in communities across Ontario. From April to October, residents and visitors are invited to discover first-hand Ontario's hidden heritage treasures, some of which have never been open to the public. Since the program was launched in 2002, over 7.3 million visits have been made to heritage sites participating in this exciting initiative.
For more information on The Ontario Heritage trust, visit their website: http://www.heritagetrust.on.ca/
Categorised in: Arts and Entertainment, Community, General, News