Dozens of stores set to reopen in Cornwall Square
June 12, 2020
Cornwall Ontario – The Square is back – but the shopping experience will be a bit different at Cornwall's largest enclosed mall.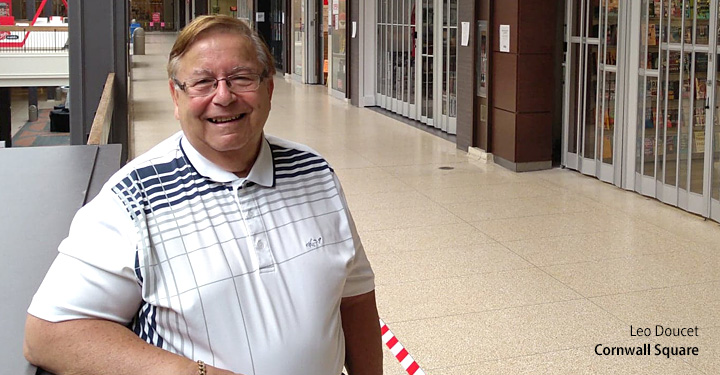 Restrictions on shopping malls have been lifted as of this morning as Ontario moves into Stage 2 of the reopening plan, and dozens of stores within Cornwall Square are expected to reopen their doors and welcome back customers.
Cornwall Square itself has remained open in a limited capacity throughout the pandemic, with several essential businesses continuing to provide service.
"We're excited to welcome everybody back," said Leo Doucet, Property Manager for the Mall. "We expect more than have of the mall's stores to open Friday, with more to follow early next week."
In preparation of the reopening, the shopping centre has implemented a variety of new controls and measures to ensure the safety of visitors and mall employees. Tape has been placed on the floor throughout the concourse areas and the general traffic will be asked to keep to one side while customers waiting to enter stores will wait on the other side. Each store in the mall will have its own limit on the number of people allowed inside at one time, Mr. Doucet explained, and the waiting line for overflow customers will be one way to control traffic and ensure distancing is followed.
In addition, mall goers will be asked to travel the first and second concourses in one direction only – counter-clockwise – in order to visit the store of their choice. Access to the building will be restricted to the northeast ground level entrance (near Dollarama) for the first floor and the middle pedestrian walkway (from the parking garage) for the second level.
As for the food court, customer waiting lanes have been set up and all tables have been removed from the food court – food services are only allowed to offer takeout and outdoor dining for the time being. Additional signage and sanitizing stations will be set up.
Mr. Doucet said patrons will be encouraged to wear masks when visiting the facility.
"The Cornwall consumer has a huge role to play in the opening of all of the retail (stores) and services," he added. "We're all in this together and we all have to shift how we are doing things for the betterment of everyone."
Beyond the new measures that have been in place in the common areas of the mall, Mr. Doucet noted that each individual store will have their own measures to help with traffic flow, capacity and distancing inside their outlets.
Mr. Doucet said they will continue to monitor traffic and protocols and adjust if need be, with the ultimate going of ensuring visitor and employee safety.
"It's all going to be dependent on customer behaviour," he said. "We're really hopeful that visitors will follow the protocols and do their part to make it a safe place for everyone."
Mall operating hours are Mon- Fri 9am to 7pm, Sat 9am to 5pm and Sun 10am to 5pm. Normal operating hours are expected to return later this month. Mon – Fri – 9:30am to 9pm, Sat 9:30am to 5:30pm and Sun 11am to 5pm.
About the Cornwall Square
Located in Downtown Cornwall, Cornwall Square is home to more than 50 national retailers and restaurants over two floors with an attached parking garage for easy access. The mall is just steps from dozens of other shops and restaurants in Downtown Cornwall and the picturesque Lamoureux Park, Cornwall's showcase waterfront park. For more information on Cornwall Square, including a directory of stores and mall hours, please visit www.CornwallSquare.com.
Business Reopening Toolkit
Cornwall Economic Development has put together a toolkit to help businesses reopen. The toolkit includes guidelines and a maximum occupancy calculator along with signs and posters that can be downloaded and printed:

We summarize the latest news about the impacts of COVID-19 on Cornwall businesses on a daily basis. Click on the following link to view: