Eastern Ontario Garlic Market arrives in Lamoureux Park
September 14, 2022
Cornwall Ontario – The 8th annual Eastern Ontario Garlic Market, co-produced by Kozroots Community Empowerment Projects (KCEP) and the Eastern Ontario Agri-food Network (EOAN), is back in full swing celebrating all things garlic!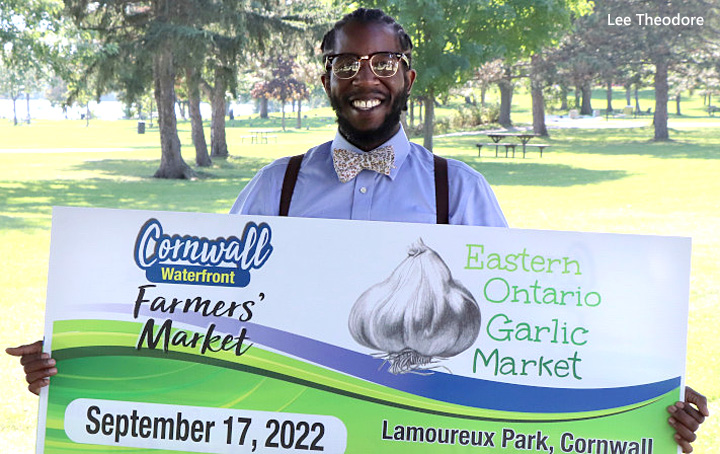 This Saturday, September 17th from 11 am to 4 pm, the Eastern Ontario Garlic Market (EOGM) will feature garlic growers and more from across Cornwall, SDG Counties, Prescott-Russell and beyond."We are happy to be featuring local talent who will be offering workshops from garlic growing to drumming, art, and drama, along with free fun family activities, live entertainment and the delectable taste of garlic," shared Eastern Ontario Garlic Market organizer Brenda Norman. "The vendor line-up includes 15 different garlic growers, along with a variety of artisans, artists, and entertainment."
"Ontario grows some of the best garlic in the world and the event serves to celebrate this" said Lee Theodore, KCEP President. "We should never underestimate the small things that connect us nor should we shy away from the big things that bind us."
Garlic is one of those things! We all cook with it, and enjoy it! So come on down to get your supply and connect with growers and other folks. Theodore said that the event has grown to showcase community collaboration over the years and that one of his goals in his role is to have it become more diverse and inclusive of food producers and farmers from all sorts of backgrounds and ethnicity in the future.
"I will be hosting Community Conversations and Mind Mapping at the EOGM and I am really looking forward to learning what other community members are thinking about and what their visions are."
As local grassroots not-for-profit organisations, KCEP and EOAN initiatives and projects are built on the foundation of local food and agri-food focused on farmers, food artisans, artists, community engagement and special events, along with working with entrepreneurs in these sectors.
"The past few years have proven how critical local food infrastructure is to our communities," explained Louis Béland, Eastern Ontario Agri-Food Network's Executive Director. "Events like the EOGM play an important role in bringing together local producers and consumers from within their community. It not only raises awareness in regards to the incredible farms and producers we have right next door, but more importantly it builds those local relationships that play such a key role in healthy and thriving communities."
Cornerstone Organics will have an array of garlic based prepared meals and food for patrons to take home or enjoy on the waterfront where picnic tables will be set up. From pickled to powder, black garlic to whole bulbs, and seed and garlic scape products, you will find garlic galore.
The event is free admission, with donations being accepted at the door to support Maison Baldwin House.
"We are excited to once again be part of the EOGM. Allowing us to run the entrances at the event gives us an opportunity to meet our community, and gives them a unique opportunity to learn about the work the shelter does and support us with financial donations. The support from the 2021 event was used towards the purchase of a vehicle for the shelter! Talk about community empowerment!," added Danielle MacNeil, Public Educator and Volunteer Coordinator.
Dine In
Thinking about dinner in the city? Check out Schnitzels European Flavours who will be serving their garlic and cheese flatbread, garlic mashed potatoes and other garlic based dishes made with their inhouse roasted garlic and oils. Reservations are recommended.
Additional information
Follow the Eastern Ontario Garlic Market on Facebook and Instagram to see the schedule of activities at #eogarlicfest @eogarlicmarket.
The Cornwall Waterfront Farmers Market is the host of the event and look forward to seeing locals and visitors at Lamoureux Park this Saturday.
Categorised in: Arts and Entertainment, Business, Community, Environment, General, News