Eastern Ontario Training Board Supporting Local Community
April 24, 2020
Cornwall Ontario – In the midst of the COVID-19 Crisis a number of local organizations are working overtime to support the local business community, including the Eastern Ontario Training Board.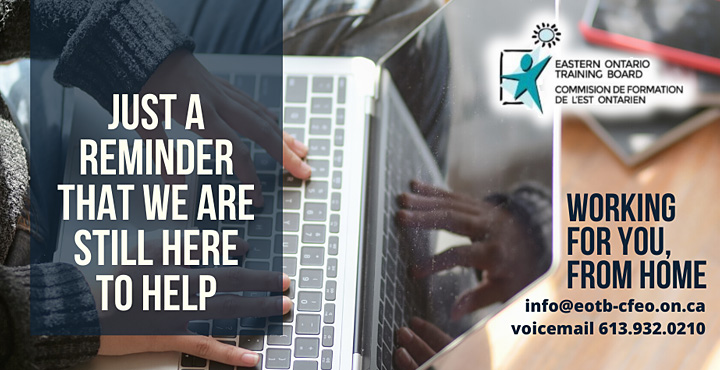 "In these uncertain times, the Eastern Ontario Training Board remains true to its core mission of paving the way for workforce development," said Martha Woods, Executive Director. "We are diligently working alongside our community partners  to help essential businesses  with their labour market needs in this evolving landscape."
The Training Board continues to work with employers and job seekers to provide training and wage subsidies and support local employment opportunities. While traditional training program will resume when restrictions have been lifted, certain elements of training are being offered virtually.
Staff will also be distributing and compiling employer surveys to determine a better understanding of the local labour market and workforce development needs.
One of the projects the Training Board is working on is enhancing welcome services for newcomers.
"Work is currently underway to ensure that our Newcomer Employment Welcomes Services Centre will be up and running when restrictions have been lifted," said Ms. Woods.  "We look forward to welcoming newcomers to our community and will be assisting them with integration into the workplace."
Eastern Ontario Training Board staff are working remotely however are accessible via phone and/or email.
About the Eastern Ontario Training Board
The Eastern Ontario Training Board (EOTB) was established to play a leading role in labour force development. It undertakes a number of projects throughout the year, and publishes the TOP report on local labour force issues. More info can be found online:

We summarize the latest news about the impacts of COVID-19 on Cornwall businesses on a daily basis. Click on the following link to view:
Categorised in: Arts and Entertainment, Business, Community, General, News