Explore the Raisin Region with RRCA's GeoAdventure
May 15, 2023
Cornwall Ontario – With the warm weather's return, geocachers from near and far have been exploring local environmentally significant sites through the Raisin Region GeoAdventure, a geocaching treasure hunt by the Raisin Region Conservation Authority (RRCA) where participants aim to find 20 caches concealed throughout RRCA's watershed jurisdiction in Cornwall and surrounding area of SDG.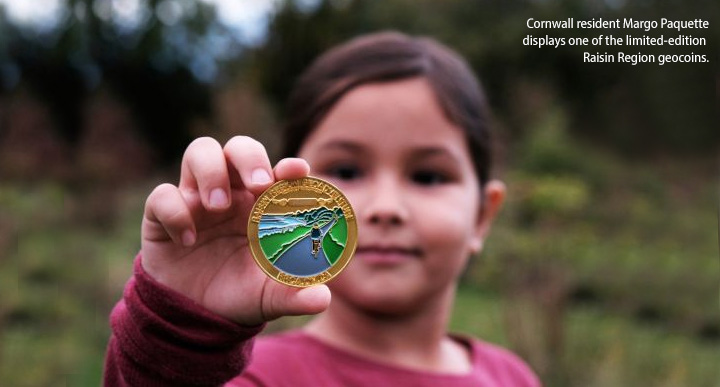 Geocaching, a world-wide outdoor activity, lets participants use smartphones or other GPS devices to find secret containers hidden by other geocachers.
"The Raisin Region GeoAdventure is an engaging way for both new and seasoned geocachers to explore RRCA's jurisdiction and learn about natural features and environmental projects in the region," says Vincent Pilon, RRCA's Public Information Coordinator. "Some of the cache sites include an edible forest, habitat restoration projects, and watershed management infrastructure, to name a few."
All 20 GeoAdventure caches contain a unique QR code leading to hidden digital content about each site. Some of the caches also contain secret codes which, when added up, allow the final cache site to be unlocked.
"So far, the Raisin Region GeoAdventure has accumulated 1,356 logged finds," says Pilon. "It's been especially great to see families enjoying this free outdoor activity while also learning about our local environment."
The first 200 families to unlock the final cache in the GeoAdventure get to earn a limited-edition Raisin Region geocoin. Each coin is engraved with a unique tracking number and can either be kept as a trophy or placed inside a cache to then be set in motion by other geocachers who move the coin from cache to cache. The coin's travels can then be tracked online at geocaching.com. A limited number of Raisin Region geocoins are still available to participants who complete the GeoAdventure.
While caches have been hidden throughout the RRCA's jurisdiction – with the addition of several caches in Akwesasne – all code-containing caches are accessible in the Cornwall area by walking, cycling, or using Cornwall Transit. Cache sites were selected in consultation with municipal, community, and Indigenous partners.
More Info
Detailed GeoAdventure instructions and a downloadable map can be found at rrca.on.ca/GeoAdventure. Printed maps are also available at the RRCA office at 18045 County Rd. 2 in Cornwall and at other select locations. Funding support for the Raisin Region GeoAdventure was provided by the City of Cornwall. For more information, go to rrca.on.ca/GeoAdventure or contact (613) 938-3611 or info@rrca.on.ca.
Categorised in: Arts and Entertainment, Community, Environment, General, News