Food Fest Returns Downtown this Saturday
August 14, 2018
Cornwall Ontario – Cornwall's biggest block party is back for another year, and it promises to be bigger and better than ever.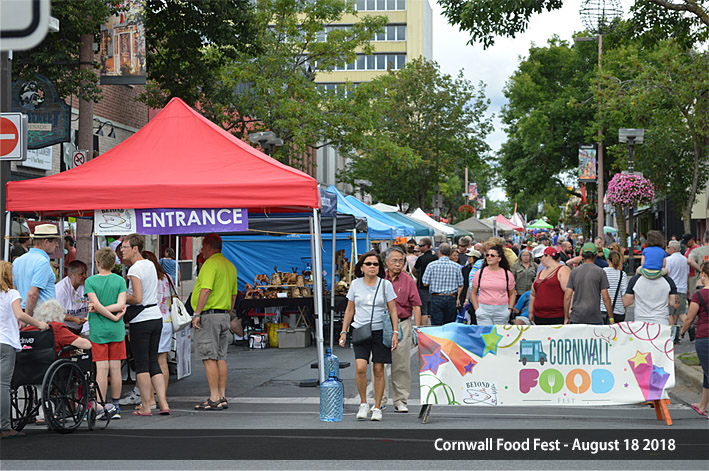 The TELUS Cornwall Food Fest will take over Downtown Cornwall on Saturday, August 18th from 10 am to 8 pm with a full slate of on-street activities and entertainment spanning three blocks of Pitt Street between Water to Third Streets.
Last year's event attracted upwards of 9,000 attendees and given this year's line-up, organizers expect to eclipse that figure.
For many, Food Fest offers a chance to discover Downtown Cornwall for the first time – or rediscover it all over again.
"There's a vibe on the street. People are proud of Cornwall, they're excited about Cornwall. There's a new excitement, a new pride when they come and see this happening," said Jane McLaren of Beyond 21, the event organizer. "And we get people that are coming here year after year now from out of town. People passing through are impressed …. not just because of the event but because of the pride the people of Cornwall are taking in this event, the excitement that they have in their City. That's what's so neat to see."
Now in its fourth year, Food Fest has already grown to become a showcase event for Downtown Cornwall and the community at large.
"It carries over. When you talk to the store owners, they'll say people come back time after time after time again. People who've never seen them before and it carries over throughout the year," Ms. McLaren added.
Food
At the heart of the event is food, and there will be lots of it. Over a dozen gourmet food trucks and local restaurants will be competing for the title of '2018 Best Street Food' with items such as poutine, gourmet burgers, Mexican and Jamaican fare, brochettes, kebobs, wings, Asian tacos, pad Thai, spring rolls, iced coffee, gelato, churros, cotton candy, Beavertails and more. That's on top of the numerous Downtown restaurants which will be open and ready to tantalize taste buds.
Activities
There will be plenty of fun to keep people moving between bites. Over 30 artisans and vendors will be set up on the street to showcase their talents and products. They'll be surrounded by a variety of buskers and children's activities from 10 am to 4 pm at the Kinsmen Family Zone at Pommier Square. Children will get to enjoy mask and monster-making workshops, face painting, storytelling and more.
YACabuskalooza will have buskers (including the Ottawa Stilt Company) on the street as well as some musicians and artists who will be busking and demonstrating their talents. There will be several YAC stations throughout the event as well.
In addition, there will be a car show hosted by Vicious Varieties and a canine demonstration by the Cornwall District Kennel Club in the parkette next to Cornwall Square.
Sidewalk Sales
Downtown merchants will be hosting sidewalk sales and in-store specials and attendees will have a chance to win $200 in Downtown Dollars.
Live Entertainment
On top of all that, there will be a full day of live entertainment featuring 12 different performers on two stages (see entertainment schedule below).
Your TV Community Stage (Pitt and First Street)
11 am  Marc Cote
12:20 pm  Pam Cumming
2 pm  Ashley MacLeod
3:30 pm  Clar Pian Duo
5 pm  Mason's Apron
6:30 pm  Classic Soul
Entertainment Tent (between Second and Third streets)
11 am  Eric and Grace Willison
12:10 pm  Nick Seguin, Matt Levesque and Shawn Mercer
2 pm  Mason's Apron
3:30 pm  Robert Cote
5 pm  Stephanie Blondeau
6:30 pm  Bang on the Ear
Admission
Admission is a $2 bracelet (children are free) with all proceeds going to Beyond 21, a local organization that partners with adults with a developmental disability to learn their dreams and help them gain the skills and connections needed to achieve them. There will be Beyond 21 Ambassadors at the event sharing information about the organization and explaining the impact the proceeds will have.
Additional Information
For more information on Food Fest, please visit them online:
Categorised in: Arts and Entertainment, Business, Community, General, News