Grebze Art on Display at Saunders Hydro Dam Visitor Centre
July 19, 2019
Cornwall Ontario –  The OPG Saunders Hydro Dam Visitor Centre offers a wonderful opportunity to  learn more about the creation of clean-hydroelectric power, the history of the dam and Seaway and of course, the unique bio-diversity of the St. Lawrence River ecosystem.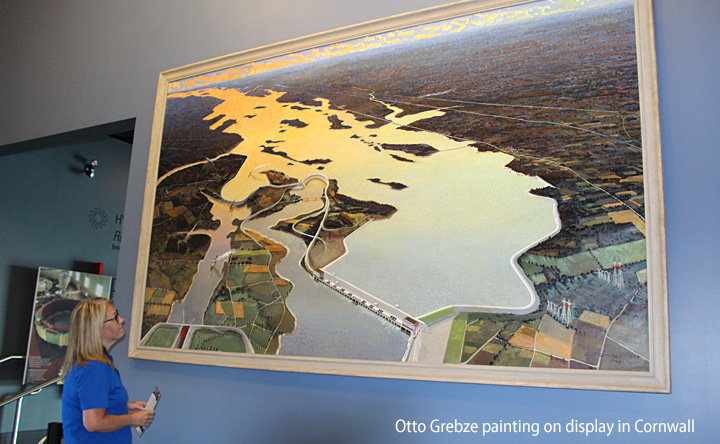 The Visitor Centre also features a number of striking paintings by Otto Grebze that come with their own interesting story.
A graduate of the Academy of Art in Riga, Latvia, Otto Grebze came to Canada by way of a displaced persons camp after World War II. In his new country, he was assigned a common labourer position at that Des Joachims generating Station near Deep River. Later he worked on the construct¡on of R.H. Saunders Generating Station in Cornwall, which went into service in 1958.
His artistic talents were noticed by his new employer, and he went on to paint and record the development of numerous hydroelectric facilities across the province. He produced more than 100 works, many of which are still on display at OPG's generating stations.
Recently, a  large Grebze oil painting of the Moses-Saunders facility, which shows a sweeping scene of the St. Lawrence River and the Seaway, was donated to OPG by Hydro One. The painting, along with two other Grebze originals, is now on display at the OPG Saunders Hydro Dam Visitor Centre.
Over his career, Grebze produced more than 3,000 works. He died in 1999 in Parry Sound but his unique legacy of clean power and art lives on.
About the Saunders Hydro Dam Visitor Centre
The Visitor Centre is located on the bank of the St. Lawrence River east of the Robert H Saunders Generating Station. This 13,000 square foot gold level LEED building opened in the summer of 2010 and is the new home of OPG's many stories. It recounts the fascinating history of the St. Lawrence Seaway and Power Project and addresses its impact on specific communities such as the Mohawks of Akwesasne and the Lost Villages. There are a variety of video presentations available, and displays on hydroelectric, thermal and nuclear generation, safety around power facilities, the American eel and the St. Lawrence Seaway.
The Visitor Centre is open 8:30 am – 4:30 pm, Tuesday through Sunday (closed Mondays) from May 28 to August 29, 2019. From September 2 -30 the Centre will be open from Monday – Friday between 8:30 a.m. – 3:30 p.m. (closed Weekends)
The Visitor Centre is located in Cornwall's west end at 2500 Second St. W. Simply continue all the way west down second street and follow the signage toward the centre.
For more information on The St. Lawrence Power Development Visitor Centre please contact 613 932-4563 ex. 3520 or visit them online:
Categorised in: Arts and Entertainment, Business, Community, General, News