HK Holbein Establishes Distribution Centre in Cornwall
November 11, 2019
Cornwall Ontario – The Cornwall Business Park is more colourful these days following the establishment of the new Canadian sales and distribution office for HK Holbein.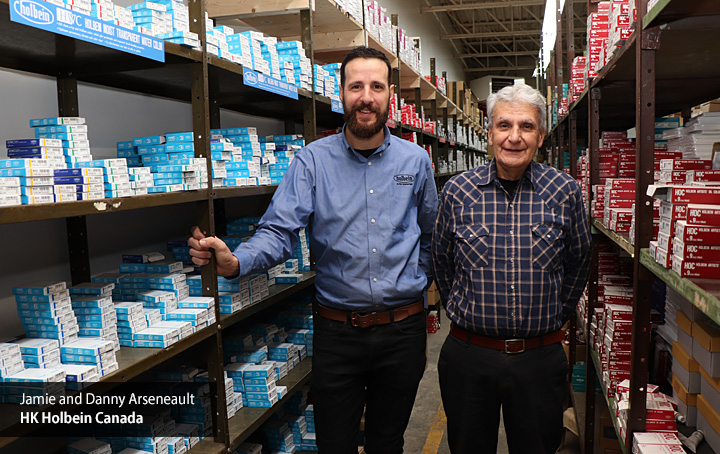 Holbein is one the world's largest manufacturers of professional artist materials – known especially for their high quality acrylic, oil and watercolour paints.  The company is unique in the art material trade because they do not produce any entry level/student quality color products. Holbein color chemists, using only the finest pigments available, have achieved the highest standards of quality control in the industry, working to precise standards at each stage of the manufacturing process. The result is unerring consistency from production run to production run.
"Our paint is adapted to meet the special requirements of serious artists with permanence, brilliance, and technique in mind," says Danny Arseneault, General Manager for HK Holbein Canada.
HK Holbein is the North American agent for all things Holbein. Founded in 1977 by Peter Hopper, HK Holbein has two offices – one in Burlington, Vermont and Cornwall, Ontario.
Since establishing at 830 Campbell in the Cornwall Business Park, HK Holbein has been making connections in the local art community, most recently offering workshops at Cailuan Gallery.
"Holbein believes there is no substitute for quality," adds Jamie Arseneault, HK Holbein's Sales and Marketing Manager. "We are very thrilled to be in Cornwall, and to be involved in the amazing art community here and in the surrounding area."
HK Holbein also distributes Strathmore Paper, Holbein Artist Brushes, Educational Colors, General Pencil and a variety of other lines, all related to the art material trade.
About Holbein
With head offices in Osaka Japan, Holbein was formed just before the turn of the last century, and took the name of the much revered European artist Hans Holbein in the 1930s. Holbein makes products in a variety of mediums, including acrylic, oil and watercolour  – available at fine art stores everywhere, and at Cailuan Gallery on Pitt Street in Downtown Cornwall.
Categorised in: Arts and Entertainment, Business, General, News