Holiday Sparkle Set to Delight in December
November 16, 2020
Cornwall Ontario – The holidays will have some added sparkle in Cornwall this year with a new community event at Gray's Creek.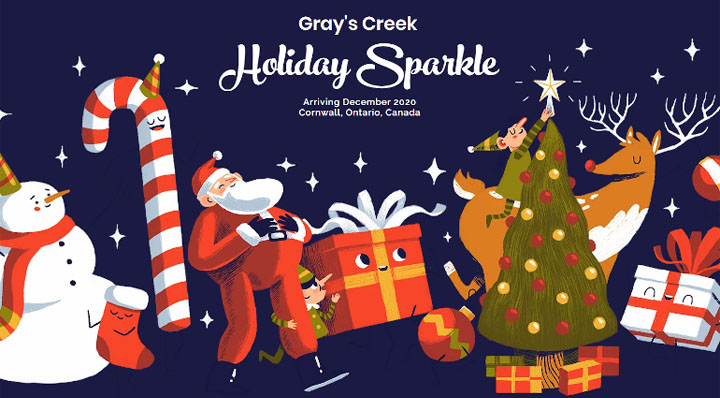 The Gray's Creek Holiday Sparkle event is a drive-through light and sound experience along the 1 km roadway that winds through beautiful Gray's Creek at the eastern edge of Cornwall.
The experience will be created by the community, with a team of volunteers leading. Companies, organizations and families can sponsor and decorate a tree or section along the drive in Gray's Creek.
"The event is being created to connect the community safely during the pandemic and to bring joy and wonder to Cornwall and area residents," said event lead Kelly Bergeron.
The event will run Thursday, Friday and Saturday nights in December between 6:30 pm and 10:30 pm. The cost is free however donations will be gratefully accepted (to support the event and the United Way of SDG). Non-perishable food items will also be accepted at the event in support of the Agape Centre.
It will be a timed event and tickets must be secured in advance. For those who are unable to attend the event in-person, there will be a virtual reality experience which will be accessible through the Holiday Sparkle website, beginning in December.
Get your ticket!
Tickets to Holiday Sparkle are now available online.
Tickets are good for one (1) vehicle and you can either select a free ticket or select a ticket and make a donation (50% towards the event and 50% towards the United Way).
Be a part of the event!
This community-driven event is looking for volunteers, equipment, sponsorships (financial and in-kind) and other forms of assistance.
Companies, community groups and families can sponsor and decorate a tree or set up a display along the route. Or you can simply make a donation or volunteer your time to support this community event. It's a great way to showcase your community pride and add to the festive cheer this holiday season!
For additional information or to contact the organizers with an idea or suggestion, please use the Contact Us form on the Holiday Sparkle website.
The Social Development Council's experienCity Project is leading the planning and organization of the event. The event is being put on in partnership with the Raisin Region Conservation Area and with support from Cornwall Tourism.
About Gray's Creek
Located just east of Cornwall north of County Road 2 and east of Boundary Road, Gray's Creek Conservation Area offers over 43 hectares of natural landscape for the enjoyment of both residents and visitors.  This diverse area is protected, enhanced and restored by the Raisin Region Conservation Authority.
Gray's Creek includes 6.4 kilometers of meandering trails that are open year round, allowing users to enjoy nature in all its seasonal settings.  Explore the trails and keep an eye out for the wide variety of animals, songbirds, amphibians and waterfowl that inhabit this significant Conservation Area. Geocaches are also hidden with the trail system.
For additional information on Gray's Creek, please click here.
About The experienCity Project
The experienCity Project promotes vibrant communities and is a program of the Social Development Council of Cornwall and area. We inspire people to collectively reimagine and reinvent public space, we work to strengthen the connection between people and places. We use a collaborative process to maximize shared value to promote better urban design.
Categorised in: Arts and Entertainment, Business, Community, General, News