Inpatient Surgery Unit at Cornwall Hospital Equipped with Wearable Monitors
January 26, 2023
Cornwall Ontario – The Inpatient Surgery Unit at Cornwall Community Hospital (CCH) has been equipped with new high-tech Masimo wearable patient monitors to allow greater patient mobility during recovery and continuous monitoring of post-operative patients, particularly those at high risk of respiratory complications from anesthesia or breathing disorders such as obstructive sleep apnea.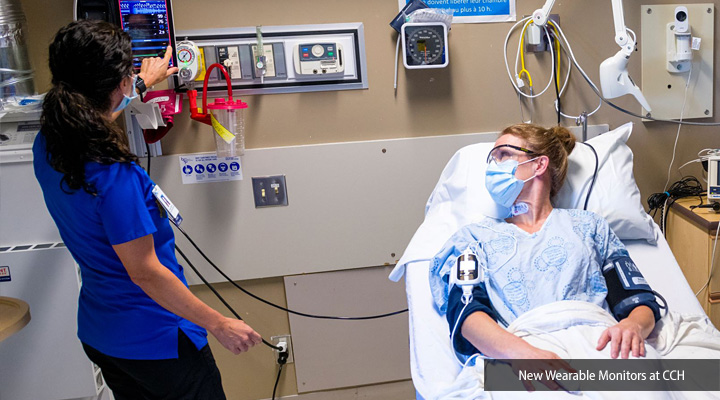 The new Masimo monitors work by having patients wear a lightweight and wireless device on their arm. Using Bluetooth and Wi-Fi technology, signals are transmitted from the device on the patient's arm to a main unit mounted at the bedside or on a trolley.
With continuous wireless monitoring functionality, staff are alerted of critical changes in oxygen saturation, pulse rate, blood pressure, and respiration no matter where they or their patients are located. The wireless monitors also eliminate the need for clinicians to disconnect the patient each time they get out of bed, reducing some workload for busy staff.
The new monitors will eventually maintain continuous communication with the hospital's electronic health record, ensuring up to date information support for staff and physicians on the care team; a testament to the hospital's high adoption of electronic health record technology to improve clinical outcomes and clinician engagement.
Nearly 25 new wearable Masimo monitors have been installed on the hospital's Inpatient Surgery Unit.
"The use of a continuous wireless respiratory monitoring system for post-operative patients will improve patient safety and outcomes, especially for those with risk factors for respiratory depression, while the monitor's wearable technology will help promote patient mobility, recovery and comfort," explains Linda Gravel, Vice-President of Patient Services & Chief Nursing Officer at Cornwall Hospital. "We're proud to be advancing innovation to enhance patient care and support our surgical recovery efforts at Cornwall Hospital."
CCH has been hard at work with the implementation of its 2022-2027 Strategic Plan, which identified Advancing Innovation as a strategic priority to support the hospital's post-pandemic recovery efforts. Following 2 years of disruptions to surgical services due to the pandemic, today operating rooms at CCH are running safely at 100% capacity and nearly 6,000 surgical procedures were completed in 2022.
Jobs at CCH
Current employment opportunities at the Cornwall Community Hospital can be found on the Choose Cornwall Job Board
About the Cornwall Community Hospital
The Cornwall Community Hospital has historical roots that reach back beyond Confederation to 1897. Cornwall Community Hospital was incorporated in 2004 with the amalgamation of the Cornwall General Hospital and the Hotel Dieu Hospital, both with over 100 years of health care service to Cornwall and surrounding area. With the completion of a major redevelopment project in 2014, and the construction of the Addiction and Mental Health Centre two years later, the hospital consolidated all acute care and community based services on the McConnell avenue site.
Categorised in: Arts and Entertainment, Business, Community, General, News