Juried Art Exhibition at Cornwall Square
November 9, 2019
Cornwall Ontario – Art is once again returning to Cornwall Square.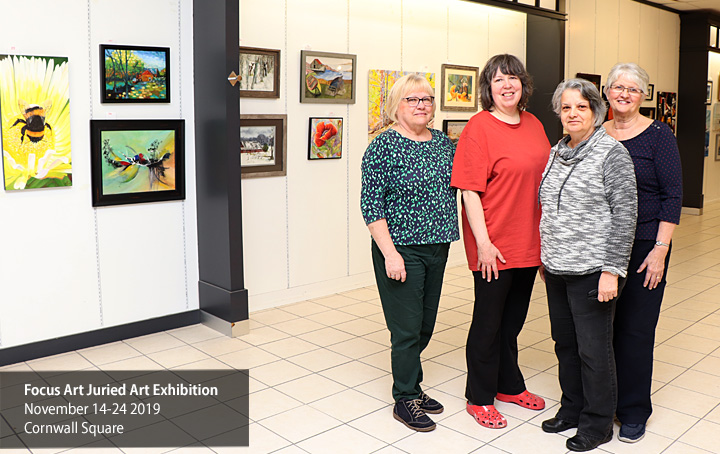 Focus Art is holding its annual juried show and once again invites the public to view the art over a couple of weeks, starting November 14.
"This year our guest juror, Christina Chrysler, will critique the works and then a few days later we open the doors to the public," says Louise Mignault, Vice President of Focus Art. "It is a wonderful opportunity to explore the talent that exists in Cornwall and the Counties.
The show will feature the work of over 40 artists working in oils, acrylics, watercolour, sculpture, mixed media and photography. It will  be located on the ground level of Cornwall Square near Continental.
As in past years, the public will have a chance to vote on their favourite piece, with the winner receiving the coveted People's Choice Award.
Many of the art pieces are for sale but will not be sold on site. Information about each artist is available for patrons to enquire about purchasing a piece directly.
Show Times
The selected artwork will be in the Exhibition that runs between November 14th to November 24th Thursdays to Sundays each week.
Thursdays  November 14, 21 – 10am to 9pm
Fridays November 15, 22 – 10am to 9pm
Saturdays November 16, 23 – 10am to 5pm
Sunday November 17 – 11am to 5pm
Sunday November 24 – 11am to 2pm
The Vernissage will be held Friday November 15 from 6pm to 8pm. The Award presentation will take place at 7pm. The public is welcome to attend.
About L'Association Focus Art Association
Focus Art is a not-for-profit organization dedicated to supporting artists and increasing the visibility of the visual arts in the Cornwall region. You can find Focus Art online:
Categorised in: Arts and Entertainment, Business, Community, General, News