Laframboise Group Expands Cornwall Operations
December 12, 2018
Cornwall Ontario – The Laframboise Group is consolidating its operations at a new industrial complex along the St. Lawrence River in the west end of Cornwall.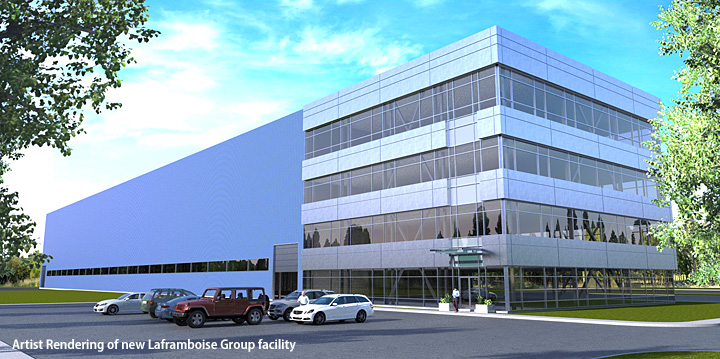 Laframboise acquired the 80+ acre property in 2014. In addition to two large buildings, the site has some unique features – most notably a wharf that can accommodate barges and water rights to 8 acres under the water.
"The acquisition of the Vincent Massey property came at the same time we were celebrating 50 years in business," says Michael Laframboise, President of Laframboise Group of Companies. "This site will become the cornerstone of our efforts as we grow the company over the next half century."
The primary building on the site is a 50,000 sq.ft. steel fabrication facility that boasts ceiling heights in excess of 60ft. The building will allow Laframboise to design, engineer and construct large Pressure Vessels, Storage Tanks, Structural, Plate fabrication for its international client base.
The company is currently renovating the building and once work is complete, 4 floors of modern office space will house the company's executive, engineering, design, project management, technical and cost control support staff.
A 25,000 sq.ft mezzanine has also been constructed to double the workspace, electrical systems have been upgraded and new equipment has been installed. The building has a crane system that can move material up to 75 tons.
The second building on the site is a 30,000 sq.ft. facility that houses the company's Pipe and HVAC fabrication work. The large footprint of the site allows for efficient exterior movement of products.
"The wharf is a unique transportation alternative and very useful to getting our larger projects on their way to their final destination." says Brian Abraham, Operations Manager.
When asked about the transition of personnel Abraham said, "We have an incredibly talented group and the consolidation of our various divisions to this location will allow our teams to more closely build on each other's expertise. Everyone is excited about the future."
Laframboise expects to complete the consolidation of its Cornwall operations in 2019. Overall, the company has invested over $20 million in the property.
About Laframboise Group
In 1964, Robert Clare Laframboise began business as a residential plumbing, heating and HVAC sheet metal contractor with six employees. Operating in its 55th year, the business had expanded to include a Mechanical, Structural and Electrical / Instrumentation divisions, and to serve industrial and institutional clients while averaging 400 employees. Future expansions would add the manufacture of Pressure Vessels, Heat Exchangers and Storage Tanks, along with Pipe fabrication.
This story is featured in the 2018 Year in Review Report.