Another Strong Year for Cornwall Economy
December 12, 2018
Cornwall Ontario – Cornwall's economy started strong and remained positive throughout the year, according to a report prepared by Cornwall Economic Development.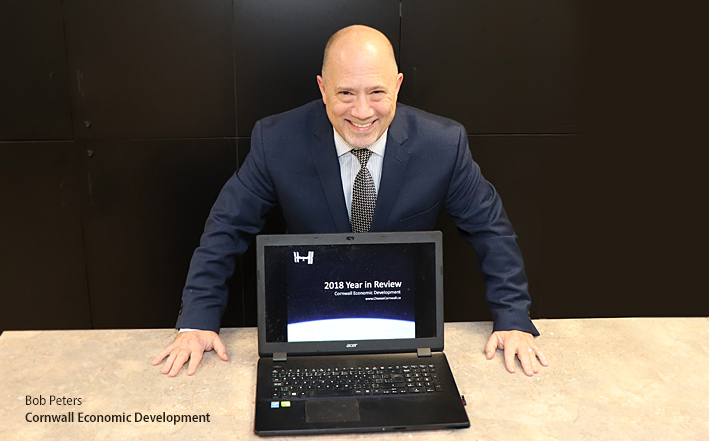 "Cornwall companies continue to be busy and succeeding in their markets," stated Bob Peters, Division Manager of Economic Development. "That growth is fuelled by investments from all sectors, and by companies both large and small."
The Year in Review report was delivered to over 300 business and community leaders who gathered at Galaxy Cinemas to hear the good news. This is the 21st year Cornwall Economic Development has delivered an annual recap of business news, with the first such report being prepared in 1998. Information for the report is  gathered from such diverse sources as building permits, media and from submissions from local businesses.
The 2018 report recaps over 200 stories of investments and achievements by local companies and individuals.  It was one of two major presentations at the Team Cornwall organized event, the other being a visit by NASA Astronaut Andrew Feustel.
"People leave the room smiling every year, but this year was very special" said Peter Gault, Chair of Team Cornwall. "The reason for the meeting is to celebrate success, and we were treated to not only a great Year in Review report but also a fantastic presentation by Drew Feustel, who helped represent Cornwall on the International Space Station."
Mayor Bernadette Clement also spoke at the event.
"These developments would not occur if we had not taken the time and care to work together to build our community into a place where people want to invest," said Mayor Clement.
2018 – Year in Review
Here are some of the highlights from Mr. Peters' presentation, which can be downloaded from the ChooseCornwall.ca website, along with reports from previous years.
Commercial
Dozens of commercial businesses opened or expanded operations in Cornwall this year. These include expanded dining and shopping options along with a strong entrepreneurial push from companies supported by the Cornwall Business Enterprise Centre, Cornwall Innovation Centre and Community Futures Development Corporation.
Industrial
Several local manufacturers, food processors and logistics companies expanded in 2018 including Walmart Logistics, Olsonfab, Olymel and Laminacorr. Announcements of future development projects were made by Laframboise, Lallemand, Benson, Shoppers Drug Mart and Biscuits Leclerc.
Residential
A number of local developers were very busy this year, as new homes were built across the city in a number of subdivisions. These include Cartwave Realty, JF Markell, CH Clement and Falcon Homes. 2019 will also see the long-awaited Bell Tower project break ground in the Cotton Mill District.
Institutional
Enrolment is up at St. Lawrence College, OPG celebrated its 60th Anniversary and the City of Cornwall relaunched its main website at Cornwall.ca.
The above is just a sampling of the dozens of stories referenced in the Year in Review report, which can be downloaded in the Resources section of this website. There are also over 150 detailed success stories from 2018 in the News section.
YourTV Broadcast
The Year in Review presentation will be broadcast on YourTV Cornwall Dec 12th at 9:00 p.m.