Laminacorr Increases Production at Cornwall Facility
December 19, 2018
Cornwall Ontario – Laminacorr has doubled the production capacity of their plant in the Cornwall Business Park with the installation of a third state of the art plastic extruder. If this sounds familiar, it is because this is the second time in 3 years that the company has made such a move.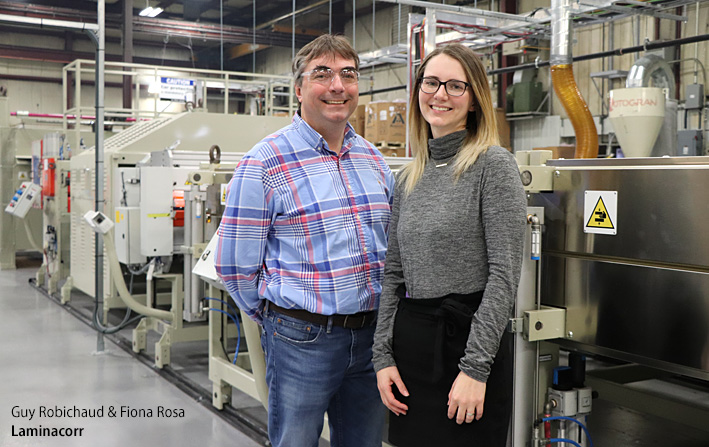 "Increasing demand for our products requires that we increase our efficiently and volume of output," says Guy Robichaud, President of Laminacorr. "The new line matches the output of our other two extruders combined, and allows us to maintain exacting quality controls."
The new extruder was custom built to Laminacorr's specifications by Italian machine manufacturer Ompia. All three extrusion lines now run the same software and use essentially the same technologically advanced components, offering Laminacorr unparalleled flexibility and quality.
In order to facilitate the increased production, Laminacorr has increased its workforce by 30%. Earlier this year it also completed a 20,000 square foot addition its manufacturing facility in the Cornwall Business Park.
"We continue to look at new markets and new possibilities for our products," says Mr. Robichaud. "We are assembling a team of professionals that will guide our company into the next decade – and beyond."
The expansion is part of multi-million investment into Laminacorr, which has been supported with funds received from the Eastern Ontario Development Fund.
Earlier this year, Laminacorr's growth was named one of Canada's Fastest-Growing Companies by Maclean's and Canadian Business magazine.
About Laminacorr
Laminacorr was established in 1998 and moved into its current Cornwall Business Park facility in 2013. Now employing 60, the company has grown to become the largest independent corrugated plastic products manufacturer in North America. The company re-processes scrap and used product, making its processes very environment friendly.
You can learn more about Laminacorr and the products it makes on its website:
You can search for job opportunities with Laminacorr on the Choose Cornwall Job Board.
This story is featured in the 2018 Year in Review Report.