Lallemand to Establish Production Facility in Cornwall
December 12, 2018
Cornwall Ontario – Lallemand, a global leader in the agri-food industry, will be establishing a new production plant in Cornwall Ontario, with plans to begin production in the spring of 2019.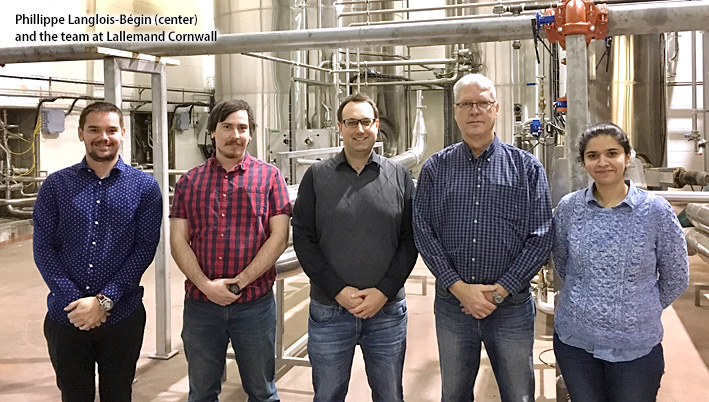 The company has purchased a large plant on Wallrich Avenue and is currently retrofitting the facility with upgraded systems and new equipment.
"We are pleased to establish operations in Cornwall," said Philippe Langlois Bégin, Plant Manager. "Cornwall is very well located for our operations. The project is moving well forward: we have a team of managers on site and expect to begin to hire in the new year as we move towards a start date in the second quarter of 2019."
Lallemand is a privately held Canadian company, founded at the end of the 19th century, specializing in the development, production, and marketing of yeasts and bacteria. The company is organized into 11 technically-driven business units focusing on various applications of yeast and bacteria in baking, fermented beverages, human and animal nutrition, fuel ethanol and for agricultural and pharmaceutical uses.
The Wallrich facility offers 128,000 sq.ft. of manufacturing and warehouse space and includes a sizeable land holding. The company plans to use the site for the development of new food, feed and biotechnology products.
"We are very pleased to welcome Lallemand to Cornwall," says Mayor Bernadette Clement. "This is a major investment in the City, and one that will have a positive economic impact on the entire region."
About Lallemand
Founded in Montreal at the end of the 19th century by Fred "Lallemand," the company begain production of baker's yeast in 1923. Roland Chagnon acquired the company in 1952, and the Chagnon family continues as the current owner. Over the next several decades the company would expand production to new markets, first to the USA, then to Mexico and then to Europe, Africa and Asia. The company diversified its business areas, developing expertise in the production of distillers' and wine yeasts and creating new products related to the beer and fuel ethanol industries.
Today, Lallemand is present through plants, distribution centers or representation offices on all 5 continents and 40 countries.
More info can be found on the company's website:
This story is featured in the 2018 Year in Review Report.