Local Author Featured in Alfred Hitchcock Mystery Magazine
February 12, 2019
Cornwall Ontario – One of the world's most recognized mystery magazines is helping to showcase a local writer.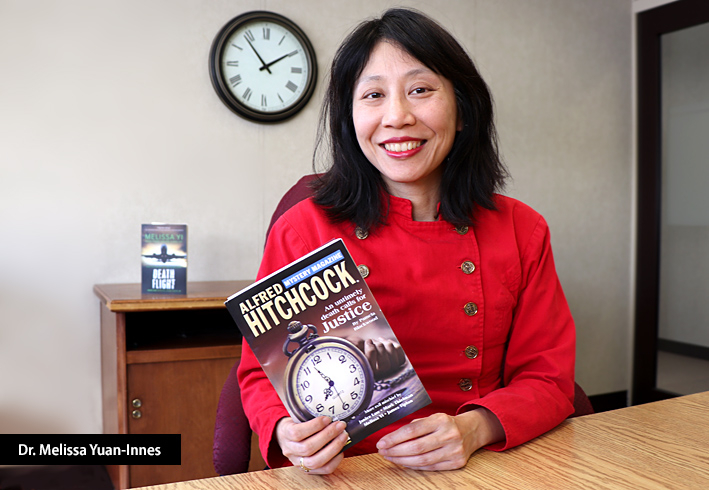 The January/February 2019 edition of Alfred Hitchcock Mystery Magazine includes the short story, "Blue Christmas," by Melissa Yi.
Melissa Yi is the pen name of Melissa Yuan-Innes, an emergency physician working at the Cornwall Community Hospital, who just happens to be an award-winning writer.
"I was floored when Alfred Hitchcock Mystery Magazine published my favourite Hope Sze short story and highlighted my contribution on the cover," says Dr. Yuan-Innes. "After years of sending away my stories like miniature bottles out to sea, I'm finally connecting with readers who smash those bottles open and rejoice in my words."
Dr. Yuan-Innes has written dozens of novels, novellas and short stories. Blue Christmas is a short story featuring the physician-sleuth Dr. Hope Sze, and was partly inspired by Dr. Bill Stanford's stem cell research lab in Ottawa. The short story follows the release of Death Flight, the sixth novel in the acclaimed medical thriller series featuring Dr. Sze.
"Writing is frustrating when you toil in isolation and obscurity, with no obvious markers of progress, until the day you make your first sale," notes Dr. Yuan-Innes. "And talented writers don't always find an audience. Art is one place where 1+1 doesn't necessarily equal 2. Still, if you keep plugging away and sharpening your skills, it will eventually pay off."
And it appears to be paying off for Dr. Yuan-Innes.
One month after releasing Death Flight, Kobo offered her a three-book audio deal. She has also signed a five-book deal with NARAT, a leading travel agency, to fly around the world and write adventure novels based in five different countries. Add this to positive reviews and recommendations from the CBC, The Globe and Mail and Amazon, and it is clear that her fiction is gaining a growing and loyal audience.
About Alfred Hitchcock's Mystery Magazine
Alfred Hitchcock's Mystery Magazine is one of the oldest and most influential magazines of short mystery and crime fiction in the world. Launched over 60 years ago, it maintains a tradition of featuring both promising aspiring writers and talented authors, spanning the full spectrum of sub-genres from dark noir to graphic works. It is available at most fine newsstands and bookstores.
About Melissa Yi
Melissa Yi is the pen name for Dr. Melissa Yuan-Innes, who has been shortlisted for the Arthur Ellis Award for the best crime story in Canada and was selected as a finalist for the Derringer Award, which is awarded for the best short mystery fiction in the world. Her stories have been published in Ellery Queen's Mystery Magazine, Jewish Noir, and Montreal Noir. She continues to write across genres, including romance and two award-winning children's books.
You can purchase books by Melissa Yi at Coles in Cornwall, as well as online at Indigo and Amazon.
More information is available online:
Categorised in: Arts and Entertainment, Business, Community, General, News