Local author publishes children's book to rave reviews
December 2, 2020
Cornwall Ontario – Erin Lee has turned her lifelong love of books into a new book of her own – and it's magnificent.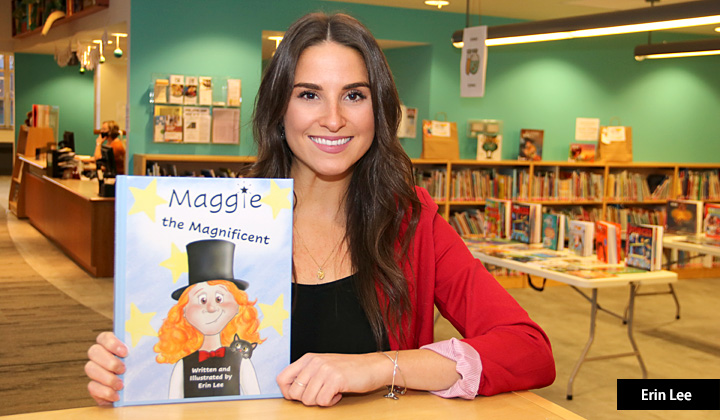 Ms. Lee is the author and illustrator of the new children's book Maggie the Magnificent, a story about a child who uses her not-quite-perfect magic tricks to win over classmates at her new school. Despite some challenges, Maggie's efforts result in a magical ending.
The beautifully-illustrated book was recently published by American publisher Pen It! Publications and it's already generating plenty of positive reviews. The book received a five-star review from the Book Marketing Global Network and online sales have been build piling up.
"This book has everything a good children's book needs: magic, fun, ups, downs and a happy ending," wrote on reviewer on Amazon.
For Ms. Lee, the publication of her book represents the fulfillment of a passion that first started in her own childhood when she first started writing short stories. Maggie the Magnificent was born three years ago however her initial efforts to get the story published didn't pan out. That all changed this year when she revisited the project and Pen It! took an interest. Not only did they like the story, but they also her asked her to illustrate it as well – a process that took about six months.
"It's such a goal and a dream of mine to share my stories and images with others. I've always loved books and the messages they convey. To see and hold my book is honestly still surreal," said Ms. Lee.
In addition to her new career writing bedtime stories for children, Ms. Lee is also a kindergarten teacher in Cornwall. She adores her students and often draws upon memorable classroom moments in her stories. It is also through childhood stories that she addresses important topics like bullying, inclusion, and anxiety within the classroom setting.
"I want to show kids that they can reach their dreams – all they have to do is believe in themselves," she added.
As for the future, Ms. Lee's resume as an author is filling up fast. She is already working on three other books and has ideas for many others. Her second book is expected to be released in the spring.
Get your copy!
Looking for a great holiday gift for a young one? Maggie the Magnificent certainly fits the bill!
The book is available online in both paperback ($12.99) and hardcover ($19.99) versions. Copies of the book will soon be for sale at Kid's Korner and Love & Lee (her sister Kelsey's boutique shop) in Downtown Cornwall.
You can also purchase the book online from Click here to purchase online from  Pen It! Publications and Amazon.
Additional information
For more information on Erin Lee's work as an author, make sure to check out:
Categorised in: Arts and Entertainment, Business, Community, General, News