Local Delivery Options for Cornwall Residents
January 11, 2021
Cornwall Ontario – Staying home during the pandemic can offer many challenges; access to food, prescriptions and other essentials being one of them.  Whether you have been directed to self isolate, or you feel safer not leaving the house, or you do not have access to a vehicle, there are some options for you to keep your household stocked with the essentials.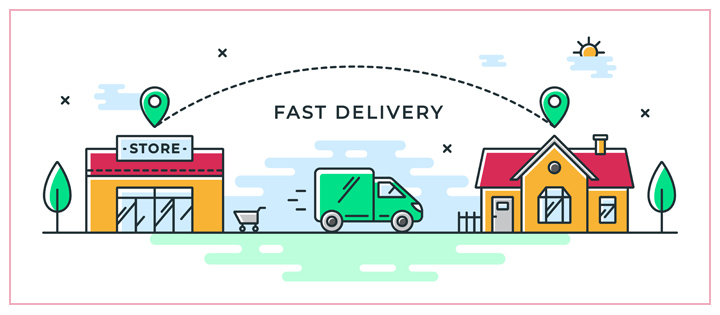 Many local businesses are set up with their own delivery services (in addition to curbside pickup and take out options), such as restaurants, pharmacies and even some retailers. You need only to call in your order and ask for delivery, which often comes with no additional cost. Growing in popularity is online shopping, where you can browse inventory, place and pay for orders via a company's website – 24 hours a day. Most online stores have a shipping option, sometimes at an additional cost, where orders are fulfilled and delivered to your door, often within a day or two.
It is always best to check out the website or Facebook page of the local business – or even better yet, call or email if you have any questions.
At first glance, access to fresh produce and uniquely local items can seem more challenging, but in fact there are several local third-party delivery businesses that have risen to the challenge and are providing delivery options.
Local Grocery Delivery
Baxtrom's Your Independent Grocer and James and Jenn's No Frills are offering online ordering through the PC Express program. You can place your order online and request a specific time for pick – up or select the delivery option. The fee for delivery is $12, or $10 for seniors, and is available 7 days a week. At YIG you can also enter the store to complete your groceries in person, and request delivery at the checkout.
Shah's Halal Grill and Grocery provides delivery service for grocery orders placed over the phone. Orders over $100 are delivered free of charge, and smaller orders have a minimum delivery fee of $4. Accepted payments include credit, debit and cash. Cowan's Dairy also provides a wide variety of grocery items from meats to fresh produce to prepared meals, which you can order online or over the phone and have delivered for a $4 fee. Their Facebook page offers an up to date list of grocery items available as well as the link to place your order online. Payment can be made via credit card over phone or by e-transfer. Both Shah's and Cowan's are closed on Mondays.
In addition to these specific grocery store delivery services, many third-party delivery companies will pick up and deliver your grocery order, as well as most other orders placed with a local business offering curbside pick up.
Third-Party Local Delivery Services
Most delivery services in Cornwall operate similarly, with a few small differences. Third-party delivery services act as your agent, picking up your order and delivering it to your home for a small fee.  They will even shop for you if the order is relatively small (less than 15 items). Upon delivery you will pay for your products in addition to a delivery fee of about $4 – $15 depending on the size of the order.  Most delivery companies accept a variety of payment options for your convenience.
For larger orders delivery companies prefer that you place your order online at a store like Walmart or M & M Meats then provide them with your name and order number to make the pick up and delivery.
If you are considering using a delivery service, you are encouraged to contact them and arrange details first to ensure they can provide you with what you need.  To assist you further, below are the names, contact information and some details on several local delivery service providers.
Grace Delivery

613-930-6612
7 days a week 9:00am – 9:00PM
no alcohol deliveries

Locey's Delivery Service

613-930-9221
Monday – Saturday 9:00am – 9:00pm

RC Express

613-933-6440
7 days a week 9:00am – 9:00pm (except Sunday 10:00am – 8:00pm)

T & L Delivery Service

613-937-0879
7 days a week 9:00am – 9:00pm except Sunday 11:00am – 8:00pm

We Be Deliveries

613-361-7732
Monday – Friday 8:00am – 6:00pm
Business Reopening Toolkit
Cornwall Economic Development has put together a toolkit to help businesses reopen. The toolkit includes guidelines and a maximum occupancy calculator along with signs and posters that can be downloaded and printed:

We summarize the latest news about the impacts of COVID-19 on Cornwall businesses on a daily basis. Click on the following link to view: