Local Musicians form Celtic Rock Band
May 13, 2019
Cornwall Ontario – A number of well-known local musicians have banded together to form Heroes of the Highland – a high-energy Celtic rock band.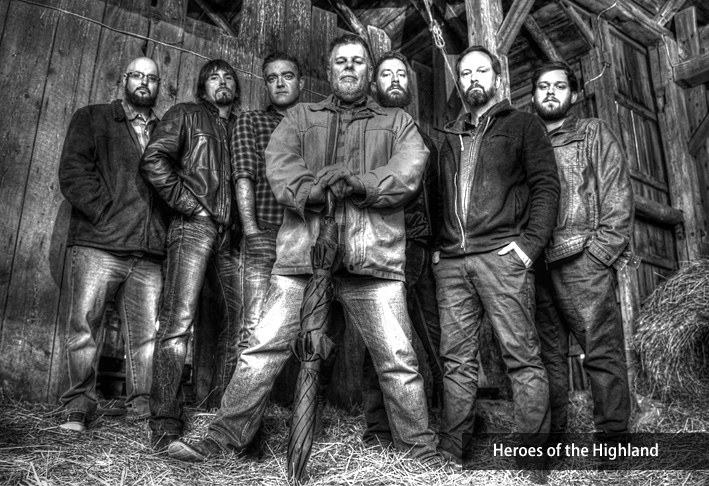 Heroes of the Highland is quickly gaining a following and will be performing at a number of North-American tour dates in 2019 and 2020. The 7 band members have been hard at work in the studio and have released a number of tracks on Spotify and YouTube. The band integrates musical traditions such as Irish, Scottish and Folk music with modern sub-genres of high energy Celtic Rock.
"Response to-date has been very positive," says Rodney Rivette, lead vocalist. "We have tried to bring something new to the table by encompassing expressive arrangements and compelling musical combinations with our own style and spirit."
In addition to Mr. Rivette, the band featues Marc Muir on guitar, Duncan Gillis on pipes, Ben Mullin on mandolin, Paul Harrison on guitar, Matt Levesque on bass and Jason Mitchell on drums.
The band released its first single Cooley's Reel (feat. Gravel Walk) on Spotify on March 6th and their debut show was at the Cornwall's La Maison on St. Patrick Day Weekend.
8 singles have since followed, including such fan favourites as Irish Rover, Drunken Sailor, General Taylor and Lark in the Morning.
"Our focus remains on delivering a live show that is awe-inspiring, energizing and captivating," says Mr. Rivette. "The industry has changed and there is less demand for standard albums and more call for singles that people can add to playlists on their favourite streaming service."
Heroes of the Highland is getting ready to release a Celtic Rock version of the song "Somebody that I used to know". The song topped the charts in 30 Countries and was written by Belgian-Australian singer-songwriter Gotye.
This will be Heroes of the Highland's 10th featured single of 2019 and will once again reach listeners in 54 countries around the globe.
Heroes of the Highland celebrates worldwide music distribution and can be found in North America on Spotify, iTunes, Amazon Music, Google Play, Youtube Music and many other services.
More information can be found online:
Categorised in: Arts and Entertainment, General, News